11:09AM, Sun 8 February 2009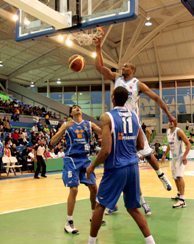 Universo/BRB and Halcones UV Xalapa won on day one of the Final Four in the FIBA Americas League played in Xalapa, Veracruz, Mexico.
The Final Four started with a win by Universo/BRB over Minas Tenis Clube 90-80 in the Brazilian duel. Valtinho was valuable for Universo with 22 points while Diego Pinheiro had 16. Alex Garcia was not effective during the game but made a three pointer with 28 seconds left to secure the victory. Garcia finished with 13 points.
Joe Shipp had 18 points and Evandro "Soro" Pinto netted 14 for Minas who is in their second Final Four.
On game two we had a duel of undefeated teams as Halcones UV Xalapa defeated Bigua from Uruguay 100-91 being led by Samuel Bowie and Abdul Mills who netted 21 points each. Leandro Garcia Morales led Bigua with 29 points while Argentinean import Ruben Wolkowyski finished with 18 points and 13 rebounds. Both Halcones and Bigua were undefeated in the group stage.
Day two continues today as Bigua faces Universo and Minas takes on Halcones UV Xalapa.
Comments
View all
Report