05:19PM, Tue 27 January 2009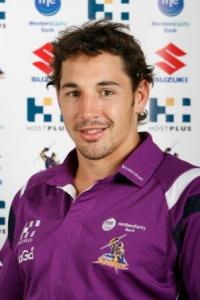 Nickname: Billy the Kid,
Born: 18 June 1983
Birthplace: Nambour, Queensland
Height: 178 cm (5 ft 10 in)
Weight: 87 kg (13 st 10 lb)
Position: Fullback
Biography: Slater started playing rugby league for Innisfail Brothers as a four-year-old. He worked with the Waterhouse racing stable in Sydney for six months after school before becoming homesick. He then took a chance on league, driving 20 hours from north Queensland to Brisbane for a trial with Brisbane Norths, and was quickly offered a contract. After two standout seasons in the Queensland Cup, Slater was rushed into the Storm's full time squad, and has continually taken his game to new levels year after year. After representing Queensland in 2004 and 2005, Slater returned to State of Origin this year, as well as dominating at international level for Australia. A stunning 2008 saw Slater star for Melbourne - he was named Storm player of the year - Queensland and Australia, with his reward the Golden Boot for the world's best player. He also made up for narrowly missing out on the Dally M medal by being named the Rugby League Federation's player of the year
A freakish try-scorer, Slater, despite how impossible it may seem, will again be looking to take his game to another level in 2009. One of the club's hardest trainers, Slater is also one of the game's most exciting players, with opposition defences often left wondering how he managed to elude them. Slater has also worked extremely hard in several areas of his game of the past couple of seasons, adding a kicking and passing game. The dazzling fullback can also be found at hooker during stages of games in order to give his skipper, Cameron Smith, a breather.


Comments
View all
Report