05:07PM, Fri 23 January 2009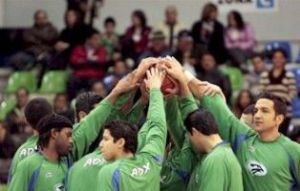 XALAPA (FIBA Americas League) - Halcones UV Xalapa defeated Soles de Mexicali 86-78 to enter the Final Four of the FIBA Americas League. Halcones join Universo/BRB, Minas Tenis Clubé and Biguá in the final round to be played from February 6-8.
Mexican center Gustavo Ayon was key for Halcones with 27 points, 7 rebounds and 2 blocks. Guard Abdul Mills netted 20 points and Victor Mariscal 12.
The first quarter was intense and with a low percentage of field goals made for both teams. James Penny led Soles with 9 points as they won the first ten minutes 17-16.
The offense by Halcones started to warm up in the second quarter starting with a three pointer by Victor Mariscal, that along with Gustavo Ayon in the paint, Abdul Mills and Victor Avila gave Halcones a good lead. A three point play by Ayon and a long range basket by Mills finally gave them a 39-32 halftime lead.
Ayón had 11 points, Mariscal 8, Mills and Ávila 7 each at halftime. James Penny led with 11 points while Anthony Lever-Pedroza had 8 and Horacio Llamas 6.
Halcones had a comfortable lead in the third quarter after Mills made a basket to have a 51-36 lead with 7:45 left, but Soles head coach, Ivan Deniz, said to his players to remain calm and were cutting the lead as Lever-Pedroza made two free throws with 3.7 seconds left to leave the third quarter down 59-56.
A three pointer by Lever-Pedroza started the final quarter to tie the game at 59. Halcones attacked with Ayón, Hickerson and Truitt while Lever-Pedroza kept Soles close. Finally Soles lost many balls while Mills and Ayon sealed the game from the free throw line.
Anthony Lever-Pedroza led Soles with 25 points while Horacio Llamas had 20 and James Penny 15.
In the two editions of the FIBA Americas League a Mexican team has been in the Final Four, being the first Soles de Mexicali who exactly one year ago eliminated Halcones de Xalapa in the quarterfinals to enter the final stage of the league.
Comments
View all
Report