05:02PM, Fri 23 January 2009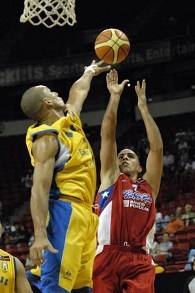 SAN JUAN (FIBA Americas Championship) - The 2009 FIBA Americas Championship will be played from August 18-31 in Mexico City, Mexico. This tournament offers four spots in the 2010 FIBA World Championship to be played in Turkey.
The host facility for one of the groups is Palacio de los Deportes that has a capacity for 23,000 fans and will also host the second phase, semifinals and finals. The host for the other group is expected to be named later.
The countries already qualified are Argentina, Brazil, Canada, Cuba, Dominican Republic, México, Puerto Rico,Uruguay, US Virgin Islands and Venezuela. The ten national teams are divided into two groups of five teams each where the top four per group enters the Quarterfinals that is played in a Round Robin format.
The best four teams in the quarterfinals enter the semifinals and automatically enter the 2010 FIBA World Championship.
Players like Eduardo Nájera (Mexico), Leandro Barbosa (Brazil), Esteban Batista (Uruguay), Luis Scola (Argentina), Al Horford (Dominican Republic), Carlos Arroyo and José Juan Barea (Puerto Rico) are expected to play.
The 2010 FIBA World Championship will have 24 participating countries where 18 enter via the Continental tournaments along with the organizer (Turkey), the Olympic Championship (United States) and four invited by FIBA.

Comments
View all
Report