11:52AM, Fri 23 January 2009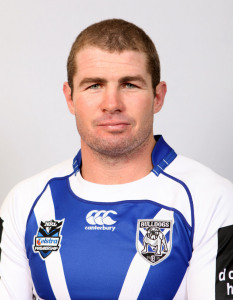 Nickname: Bobcat
Position: Second Row
Height: 186cm (6' 1")
Weight: 103kg (229lbs)
DOB: 2nd Dec 1978
Origin: Dubbo, NSW, Australia
Debut: Vs South Sydney - 15th Mar 2003
Dog Years: (6) 2003 , 2004 , 2005 , 2006 , 2007 , 2008
Captain Years: (5) 2004 , 2005 , 2006 , 2007 , 2008
Captain Record: 95 games, 41 won (43%), 53 lost (56%), 1 drew (1%)
Rep Caps: NSW (10) , Australia (11)
Other Clubs: Parramatta
Junior Club: St Johns Dubbo
Biography: Made a name for himself when he was forced to captain the Bulldogs to Grand Final glory in 2004 after regular skipper Steve Price was ruled out due to injury.
Andrew is a very enthusiastic and busy forward who likes to heavily involve himself around the ruck and in defence. He backs up superbly and on many occasions finds himself crossing the line for a four pointer.
Andrew played 73 games for Parramatta as a lock forward. He played in the Grand Final against Newcastle in 2001 and played for NSW in 2001.
In 2003, Andrew joined the Bulldogs to become a regular member of the NRL team. He has played ten games for NSW from 2001 to 2007 and has played 11 Tests for Australia from 2004 to 2007.
In 2003, Andrew also played in the Preliminary Final against the Roosters in the second row.
In 2004, Andrew broke Bob McCarthy's 1976 record for the most tries in a season by a forward in first grade, scoring 13 tries. He was named captain of the team for the 2004 Grand Final where he was apart of the Premiership winning team against the Roosters.
In 2005 and 2006, Andrew has been captain of the team. He has captained the Bulldogs on 71 occasions from 2004 to 2007.
In 2007, Ryan continued his captaincy, playing 24 games and leading from the front in defence. The 29-year-old was the Bulldogs top tackler for the season with a total of 733. He was also equal third with Willie Tonga in the hitup count with 265, making 13 line breaks on top of that.
Andrew has had post-season elbow surgery and is likely to return for the trial matches.
Motto: Treat others how you want to be treated.


Comments
View all
Report