10:17AM, Tue 20 January 2009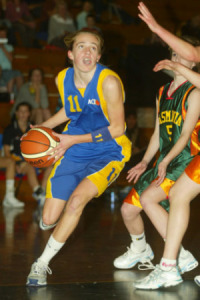 If you bump into a couple of basketballers in weird and wonderful places around Melbourne this weekend, don't be too surprised as the coming long weekend is also home to one of the biggest junior basketball tournaments in the world.

Staged every year on the Australia Day weekend across the southern, eastern and northern parts of suburban Melbourne, the popular Eltham-Dandenong Tournament regularly attracts 800-plus teams.

This weekend will be no different with clubs from South Australia, Tasmania, New South Wales, Queensland and the ACT joining dozens of clubs from across Melbourne to be represented in boys and girls from under 10s through to under 20s.

Entering its 34th year, the tournament is staged at venues from Dandenong, Langwarrin and Cranbourne to Eltham, Ringwood, Knox, Kilsyth and Warrandyte.

Commencing on Friday night and progressing through to finals next Monday evening, all up 80 courts at 20 venues will be in use with thousands of spectators expected and a huge injection of business for local areas.

While basketball continues to take a battering in the media at the national level in the NBL, the game blossoms at grassroots level where participation in the game is growing each year.

More than 900 teams participate in the weekly Victorian Junior Basketball League's representative competition, while thousands more run around each week in domestic competitions. The same structures are established in every part of Australia.

Tournaments such as this one are recognised worldwide with many basketball officials amazed at the sheer size of the operation, which also includes hundreds of referees and more than a thousand volunteers helping to run the event, coach and manage teams.

So if you happen to see young hoopsters in uniforms doing the rounds this weekend, and you will, you'll know exactly what they're up to.

To catch all the latest news of the tournament, go to www.elthamwildcats.basketball.net.au
2009 Bendigo Junior Classic
Another junior basketball tournament happening this weekend is the Bendigo Junior Classic, which is now in its 31st year. The tournament has 223 teams competing in almost 600 matches on 16 different courts and it is estimated that as many as 7000 players, families and support staff are expected to descend on the city this weekend for the event.
SportingPulse software is being used to run the event and mySport members can get the Fixtures, Results and Ladders on their mySport website but visting the Bendigo Junior Classic website and clicking on the 'myFiba' logo on the results pages.
mySport fans of the WNBL can add Bendigo's best-known basketball talent, Kristi Harrower, to their friends as well as 10 other WNBL Ambassadors and Boomers star Patty Mills.
Comments
View all
Report