06:10PM, Wed 14 January 2009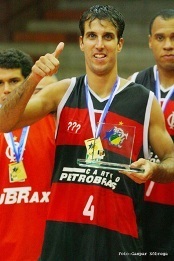 SUNCHALES (FIBA Americas League) - Flamengo Río de Janeiro is one of the favorites to win Group C of the FIBA Americas League to be played in Sunchales with a stellar roster. Their debut is today at 21:00 against Universo/BRB who they defeated in Campeonato Nacional finals in Brazil.
The team coached by Paulo Teixeira Sampaio has players like Marcelinho Machado, Helio Lima, Eduardo "Duda" Machado, Fernando Alvim, Frederico Lima and former NBA player Rafael "Baby" Araujo.
In addition to winning Campeonato Nacional over Universo, they also won their state championship in December over Cabo Frio/Sika. They were also the finalist in the South American League for Clubs.
The head coach of Flamengo said: "The first game will have a lot of nerves because we played in Campeonato Nacional finals. We are going to try and erase their strong points and establish the tempo of the game."
Flamengo dominated Campeonato Nacional Finals in three games. The first game had a score of 93-66, then 91-76 and 101-96. Marcelinho led the scorers with an average of 29.7 points and was followed by Duda with 17.7 per game.
They had a couple of warm ups and were practicing hard to be in the best condition for the FIBA Americas League. This tournament also serves as preparation for Liga Nacional that starts on January 28.
This group also features Libertad Sunchales from Argentina and Deportes Castro of Chile who open the competition at 19:00.
The winner of this group joins Minas Tenis of Brazil and Bigua of Uruguay in the Final Four to be played from February 6-8.
The games will be televised on FOX Sports en Español and live stats will be available on www.fibaamericas.com
Wednesday, January 14:
19:00 Libertad Sunchales vs Deportes Castro
21:00 Universo/BRB vs Flamengo
Comments
View all
Report