02:04PM, Wed 31 December 2008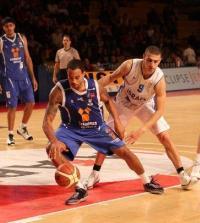 AMSTERDAM - Minas Tenis Clubé of Brazil finished fifth at Haarlem Basketball Week celebrated in Amsterdam. The Brazilian team defeated Astana Tigers 92-85 in overtime.
Joe Shipp was key again for Minas with 24 points. Luiz Felipe and Leandro Da Cruz Silva netted 17 points each while Guilherme Santos Hubner had 16.
In the loss Maxim Voyeikov scored 19 points while Anton Ponomarev and Yevgeniy Issakov had 14 each.
Astana dominated the first quarter 17-14 but at halftime Minas had a 33-32 lead. The second half was close until it ended tied at 71 to force the overtime period.
Now Minas will play at Liga Nacional of Brazil that starts on January 23. Then they play at the Final Four of the FIBA Americas League from February 6-8.
Final Standings:
1 - EclipseJet MyGuide Amsterdam
2 - Israel
3 - Netherlands
4 - EiffelTowers Den Bosch
5 - Minas Tenis Clubé
6 - Astana Tigers
7 - Capitanes de Arecibo
8 - Francis Marion University
Comments
View all
Report