12:00PM, Fri 19 December 2008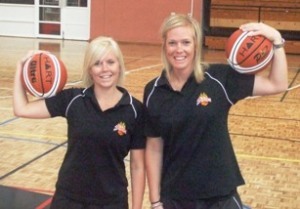 The Rockingham Lady Flames are looking to advance up the SBL standings in 2009 and have made some exciting new changes within leadership ranks to ensure the club reaches its lofty expectations.

Just a week after announcing new Lady Flames Head Coach Ryan Petrik, club management have endorsed two high profile locals who they believe can build a winning culture within Rockingham senior women's basketball. New team captain will be the ever reliable Kaye Tucker while sweet shooting guard Casey Haggar will be her deputy.
Tucker (25), is a highly credentialed Rockingham junior who progressed through the junior Flames program will enter her 5th season as a Lady Flames representative in 2009. Coming off a great season in 2008 where she averaged 15 points and 7 rebounds per game, there is much anticipation that her best is still to come. While Tucker is currently playing a significant role competing for the Perth Lynx in the WNBL, coming back and suiting up for her home association is something which holds considerable significance to her.
"It's always been close to my heart to ensure I was able to come and play SBL with the Flames. The added bonus this year is after playing in the National league it has allowed me to mature as a player and with the youth in our squad I feel that I can assist the girls with the gruelling schedule and ensuring we remain focussed throughout the year said Tucker."
Speaking on the announcement Association CEO Shannon Conrad said "Both Kaye and Casey are great success stories and epitomise what our association is trying to achieve in terms of developing junior talent to reach their fullest potential. It's an exciting time, with a new captain, vice-captain and coach, which will reinvigorate the team."
Now to Haggar who at 22 has been playing SBL since 2001 and led the Lady Flames in assists running a combination of both guard spots in '08'. With a number of her teammates playing less significant minutes towards the later part of last season it was Haggar who was looked upon to take a step and become a vocal leader within the group.
Speaking on her new position Haggar said "I'm really looking forward to the challenge next year and it's a priority to make the playoffs with the squad we have. We are going to look at playing an up tempo style of play that has the fans wanting to see us in action."
For all updates from the Rockingham Flames Basketball visit their official website www.rockinghamflames.com.au
Comments
View all
Report