06:50PM, Tue 2 December 2008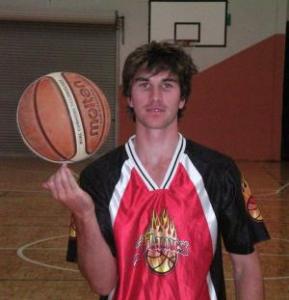 Playing in front of 90,000 screaming AFL fans at the MCG or traveling the world running up and down a pine floor, what would you choose?
For Rockingham local Ryan Godfrey this was a decision he had to make at 16 years of age which inevitably would be a life changing choice.
Taking up basketball at the age of four along with Aussie Rules football Godfrey was introduced to the game by his father Allan who was a junior coach at the time but his dad's passion lay with the oval ball.
So as time passed Ryan continued playing both sports where he experienced great personal and team success. "I always saw basketball as a true passion where as football was more about fun" said Godfrey.
There then came a day in 2006 which changed things forever, it was the week of Ryan's junior football grand final when he told his dad the upcoming game would be his last. To begin with Allan was obviously a little shocked, but very supportive of Ryan's willingness to commit to a decision he would have to live with from that day forward.
Following this Ryan was selected for both the under 16 State Football and also under 18 State Basketball squad but he had resigned to the fact a life on the hardwood was his preference over taking speccies and kicking 50 metre goals.
Speaking on the factors that made basketball his priority "I always wanted to be in the action and play a pivotal role in my team's success. There are many different pathways you can pursue in basketball, whether it be the American college system, traveling around Europe playing in the power leagues or staying close to home in the NBL."
So as the 2007 calendar year came and went some of the achievements Godfrey experienced were becoming a member of the WA ITC program, under 18 State representative and also completing his rookie year with the Flames SBL program which further enhanced his reputation. First year SBL coach Mark Utley saw Godfrey being a development player that may get five minutes here and there.
Not content with accepting that role by the second half of the season Ryan ended up becoming a starter and averaged 8pts and 6 assists in 24 mins per game.
Having finished secondary school, Godfrey had high hopes for 2008 with a number of Australian  camps on the radar and while he was overlooked for the first couple of tours, he continued to focus on SBL with the Flames and completing his Sport Development course at TAFE.
After returning home from Tafe after another regular day he opened his email to see a message from Australia's U/19 and AIS Coach Marty Clarke asking to give him a call which later went on to reveal he had been accepted into the Australian touring party which was the biggest chance to date Ryan had to show his wears with the added bonus being he would don the green and gold.
He made the State team and the Flames reloaded for the '08' SBL season with a star studdered lineup. Ryan was initially to be the spark off the bench behind NBL role player Adam Caporn but following a rapid rise he was promoted into the starting line-up where he played a major role in the teams placing. Godfrey openly credits Caporn's willingness to assist his development with preparation, knowledge of the game and how to act around senior players and coaches as an integral role in his emergence.
All the while when it came time to board a plane to Taiwan with the Australian Emu's Ryan was blown away, "it was very professional, we had set regimes and strict schedules which covered everything from preparation, recovery, meetings and video sessions not to mention having to learn the whole teams offensive and defensive structures in just one week." At the completion of the tour Ryan finished with averages of 4ppg, 2rebs 2 assists in 15mins per outing.
Following his showing in Taiwan it was a busy couple of months as Ryan was selected for the next tour with the Australian team which was to qualify for the World Championships in South Australia and then was confirmed as a required player for a tour with the AIS program to Italy.
Upon arriving back in Australia Ryan's next goal was to be selected with an AIS scholarship so he continued working on his game. Some time past until one day Allan then received a message from a friend saying the AIS squad had been selected and Ryan had been overlooked which was hard to accept for obvious reasons but getting the news second hand only motivated Ryan to work harder and let his game do the talking. Three days later a letter arrived in the mail confirming the news which hangs from his bedroom wall to this day reminding him of the hardships along the journey.
Last week Ryan was awarded the John Brown Memorial Award which recognises young talent who have, and continue to achieve in their given field awarded by the City of Rockingham.
As for what the next stage holds Ryan will continue to train with the Perth Wildcats which includes, three on-court and four gym sessions per week along with state training and state school training.
He still holds great ambition of becoming a professional either in the NBL or heading to an American college on route to Europe but in the meantime Ryan will continue to train hard, play hard and keep having fun.
Comments
View all
Report