12:48PM, Fri 28 November 2008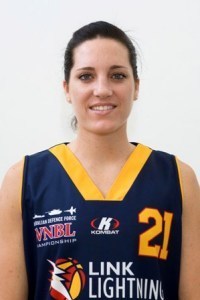 Name: Tracy Gahan
Date of birth: July 18, 1980
Most admired sportsperson: Michael Jordan
Proudest moment in basketball: Winning back to back Big XII Tournaments at Iowa State
Fitness tip: Drink lots of water.
My partner on Dancing with the Stars would be: Brad Pitt
Dream destination on a holiday: Fiji
The last time I laughed until I cried was: It's been a long time&5 or so years ago and I have no idea why we were laughing.
The best advice I've ever had was: "Don't cry because it's over, smile because it happened." -My coach at Iowa State, Bill Fennelly
If only I could: Change the politics in America.
Three people I would invite to a dinner party would be: Michael Jordan, Brad Pitt and Hillary Clinton
My friends say I look like: My mom
One day I plan to: Travel to all of the 'Wonders of the World'
If I was a Superhero, my name and powers would be: Don't know my name but I would have to power to ensure peace and prevent poverty.
If I wasn't a basketballer, I would love to be: Pro beach volleyballer.
Favourite movie: Braveheart
Favourite television show: Friends
If I was singing Karaoke, I would sing: Rescue Me, Fontella Bass
Favourite comedian: Larry the Cable Guy and Cedric the Entertainer
Favourite food: Chinese
Favourite invention: Email
Last book I read was: The Confessor, James Patterson
In 2016, I'll be: I don't even know what I'm doing tomorrow, so I can't even imagine ten years from now!


Comments
View all
Report