10:39AM, Mon 10 November 2008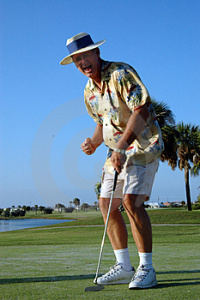 So now that i'm not playing basketball anymore, golf has become the choice of exercise. It doesnt build up much of a sweat, but nonetheless, there are good health benefits, and you feel great the next day.
So, just need to brag about something for a bit. Played Royal Ringwood yesterday, just 9 holes, first time there in a couple of years. Started terribly, hitting straight into the trees, got back onto the fairway then trees again.. Ended up with a 7 on one of the easiest par 4's you can imagine.
Got 2 more 7's in the next few holes to go with a few bogeys (i'm happy with bogey's) then got to the 7th hole, which is a straight, flat 310m par 4. After hitting a nice drive i didnt hit my second shot clean, and ended up about a metre off the front of the green. (queue music 'the eye of the tiger') The PW wasnt working for me yesterday so i took out the putter, and tried a new putting stroke (the hunchback). The putt was a right to left slope, would've been 500 ft if it was an inch, and i sunk it for birdie. The galleries errupted as i fell backwards onto the grass, and laid there staring at the skies coming to terms with the glory of the emoment.
I chose not to set foot on the green to hold the flag for Jamie and Morry. Instead i watched them putt out while standing a few feet off the edge of the green, and walked off to the 8th with a big smile. Being a 'drive for show cant putt for dough' golfer, on this day no amount of 3-putts would get me down.
Comments
View all
Report