12:31PM, Mon 20 October 2008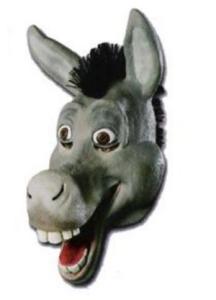 Hey spuds, welcome to another week of Dudes & Donkeys. Plenty of people worth considering this week, but of course we can only fit so many Donkeys in the barn. Strap yourself in, here we go!
DUDES OF THE WEEK
1) Peter Siddle - the young Victorian speedster got the call-up to the Australian Test team for his debut and then kicked things off by hitting one of the Indian opening batsmen in the head with his first ball. What a great way to start his career! Mate, if you can work your way down the order and knock Harbhajan Singh's block off, we'll all be very happy!
2) Bolton Football Club - the struggling club in England was in desperate need to get more fans to the game on the weekend so they came up with a novel way to entice more punters through the gates - FREE BEER. Need I say more than ....... MEGA DUDES!
3) Shakib Al Hasan - hmmmm? Who is this bloke I hear you ask? Well, ask any New Zealander who he is and they will cringe with fear and crumble with panic. After making 71 runs in his Test debut, the 21-year old Bangladesh cricket sensation ripped the pathetic Kiwis apart with ball, taking 7-36, the best ever performance for his country. Better still, this Dude looks like he will steer Bangledesh to a famous Test victory against New Zealand. So, as far as Couchy is concerned, any person capable of bringing about laughter at the expense of New Zealand sport deserves Dude status.
4) St Kilda Football Club - hahahahahaha! It's the off-season and still the Saints find a way to fight with each other! When the media has nothing to report, wheel in the Dudes from St Kilda, they'll give you something! This time it involves past president Rod Butterss and anyone he can point a finger at. Classy stuff Saints, good to see you guys are living up to your reputation. Absolute Dudes!

DONKEYS OF THE WEEK
1) Weekend Hussler - yep, Couchy knows, a great horse, but please spare me the hype next time! Has a horse, that's never run the distance, ever been built-up more than Weekend Hussler was in the Caulfield Cup? To all those who believed the hype and parted with good money - you're all Donkeys too!
2) Matthew Hayden - sorry Haydos, Couchy loves ya mate, but you've lost the edge brother. The way in which you're giving up your wicket to those loud-mouthed Indians is very ordinary. This is one Donkey-Slap I'm really sad to be handing out, but this week Haydos you're a Donkey!
3) Sydney Basketball Supporters - the biggest Donkeys of the week by an absolute mile. Sydney has one men's team in the NBL (Sydney Spirit - a Donkey of a name by the way) and a population of about 5 million. Now you do the sums folks, but attracting less than 1000 fans to last Friday night's clash between the Spirit and the South Dragons is laughable. Memo to all basketball fans in Sydney - you're all DONKEYS!
4) Juande Ramos - who? Yep, Couchy couldn't agree more! This bloke manages Tottenham Hotspur in the English Premier League. His current claim to fame is leading the Spurs to their worst ever start in EPL history. How much longer do you think he has in charge of one of London's greatest clubs? Forget about bye-bye birdie, for Mr Ramos it's BYE-BYE DONKEY!
5) Collingwood Football Club - Couchy gets the feeling that the Magpies will grab a Donkey award plenty of times in the future. Let's get them started by slapping them down with a Donkey-Kick after they decided to speak with Victorian Police Commissioner Nixon (or whatever her name is?) about the status of former (?) drug addict Ben Cousins. Nice work Collingwood, what a great way to make the front page of the newspaper! Are you going to meet with the police next time another one of your current senior players breaks the law? That sort of stuff happens so often down at Collingwood that you might as well put the Police Commissioner on a retainer! Yep, they're all a pack of Donkeys down at Collingwood!
Until next week, all the best ...... Couchy's off to the chip fryer for a hot bake!

Comments
View all
Report