10:09PM, Sat 6 September 2008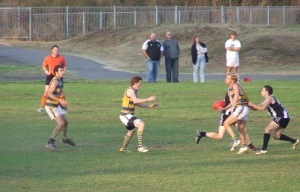 A shame that more weren't there to see Kirk and Bolton play out of their skins...plus Jolly's 50 hitouts!
Now Buddy is an absolute champ, but could learn a lot from watching Kirk - Franklin looking at himself on the big screen all night drives me crazy (then again, he has 20-odd chances to check himself out and with some of the stuff he does on the field, I'd probably do the same)! Kirk was brilliant tonight when the game was there to be won.

Ah, Shannon Grant has just retired - maybe he should have stayed at the Swans!

Comments
View all
Report