09:56PM, Wed 3 September 2008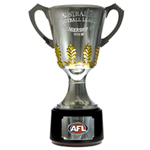 I haven't got to many tips right this year so that trend will probably continue this week.


Hawthorn V Bulldogs
Hawthorn have to be favourites but i reckon the Bulldogs aren't bad value for this game. The Bulldogs have won 4 out of their past 5 against the Hawks and having beaten them down in Tassie earlier this year you would say the Bulldogs are a chance. They have also apparently suffered from a heavy training load after the last part of the season but are now primed for this game. I think that they could have the legs to run over the hawks in the last quater, especially if Buddy has 2.9 and leaves the door open for them. Im going with the Bulldogs in an upset

Adelaide V Collingwood
Collingwood were a disgrace last week. It is funny how they talk about how well they develop their youngsters one week and they always step up straight away, and then the next week they say you can't expect to win games with so many youngsters. Both teams have been fairly up and down all year and the pies do a have a fairly good record at AAMI. Adelaide should narrowly get over the line.


Sydney V North Melbourne
There will be no love lost between these two teams this week. With Laidley's claims of Sydney's tunneling tactics set to fire the swans up. I think you have to like North Melbourne in this game. They have been playing good football up until last week. Here is a stat for everyone out there. The Kangaroos are 7-0 In their last 7 games played following a loss greater than 50 points. This doesn't of course include last year's prelim because they didn't play the next week. This shows that coming off a big loss Laidley has been able to get the most out of his team when their backs are against the wall. Sydney on the other hand have been less than impressive this year. They have played top 8 teams 11 times only being able to salvage 1 win a draw and 9 losses. The only win coming against the saints when they were at their lowest. North Melbourne under 6 goals


Geelong V StKilda
In 2004 both teams made the preliminary final and lost by under 10 points. 4 years later the cats are an absoulte power house and despite winning winning 8 out of their last 10 the saints are a bit of an anomaly. You don't know what to expect. It is important that the saints get a good start as this has been Geelongs weakest quater this year. I don't feel that even at their best they are the team to match Geelong. Cats by over 5 goals

Comments
View all
Report