09:38AM, Thu 21 August 2008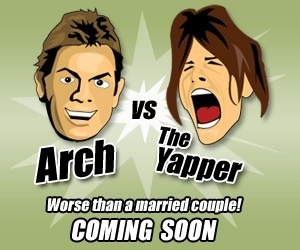 Well, I'm officially in training for my daily showdown with Arch. He's already started at me with a bit of banter (sledging!) and I'll be making sure I deliver it back with both barrels. We argue about everything. Every sports topic discussed in the office usually ends in Arch and I scoffing at each other, plenty of raised voices and some times a trip to the sin-bin (the cleaner's closet)! Bring it on Arch, I'm ready and waiting. There'll be no sitting in the Kanagroos backline mopping up around here buddy! If anyone has a topic they want Arch and I to discuss (battle it out over), write it here on my sports log. The first showdown is on the way and Arch.......you're going down, sunshine!

For those of you who haven't heard about Arch vs The Yapper, here's what you can expect;
Arch vs The Yapper
Worse than a married couple!


It's being billed as a daily blockbuster! Two opinions each day on the latest sports topics, head-to-head, fire and fury, no holds barred. Welcome to Arch vs The Yapper.

Coming to SportingPulse shortly, one of the toughest men in sport (Arch) will square-up against our resident motor-mouth (The Yapper) for a battle of the minds! Hmmmm?

Each day, Arch and The Yapper will provide a different opinion on a sports topic from anywhere in the world. They'll stop at nothing to prove their opinion is right. Then it's up to online viewers to pick a winner.

However, going one step further, online viewers will also be able to give their opinions via the Arch vs The Yapper message board. And don't hold back, tell us what you really think.

You can even forward topics to our combatants and win prizes if they decide to battle it out over your topic. So strap yourself in and get ready for a war of words that you can interact with. Watch, vote and comment.

As the tagline suggests, these two are worse than a married couple. It's like nothing you've ever seen before. Arch vs The Yapper - coming soon!

Comments
View all
Report