01:16AM, Thu 21 August 2008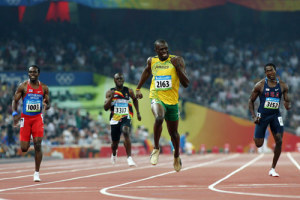 How good is Usain Bolt? Well, simply put, he is without exception the brightest talent the world has seen on the track. Perhaps a better question, is how good will he be?
We just saw Michael Phelps win 8 gold in the pool.... can it be done on the track? Who knows. We saw Carl Lewis win 4 gold in LA, well this guy is better.... Can Bolt jump? In time his legs will only get stronger which will help him wiin long jump (and maybe triple jump?). He just beat Michael Johnson's 200m record (into a headwind, running wide in his lane on the bend) which was the one they said would never be beaten. Johnson was also one of the great 400m runners. With improved endurance and focused training, perhaps he can win the 400... And with those long legs, surely he can run over hurdles like they're almost not even there, enter 110m hurdles and 400m hurdles. Then there's the 4X100m relay and the 4X400m relay, which takes the total to a possible 9? Take your pick. We've never seen this kind of talent, so who knows what he is capable of...

Is it possible? I wouldnt have a clue, but the guy is still 21... Track athletes usually peak in their 30s, so he has plenty of time to diversify. We've already seen there's no one that can challenge him in the sprints, to the point where he jogs for half the race and still wins... he's clearly bored, so why not try something new? That's what Phelps did i guess, now he's up there with Woods, Jordan, Ali and co. Maybe Usain will join them in time.

For me, the best thing about the guy is that he's so believable. In a sport tarnished by drug cheats for decades, here's a guy that doesnt look like he's on the juice at all. This gives the sport perhaps its most significant 'injection' in its history. And is he marketable? I dont even have to answer that. He just became one of the most recognisable faces on earth in the space of a few days, and not many people would have a reason to dislike him. His manager will have hundreds of multi-million dollar contracts thrown at him in the next couple of weeks. The bidding war is on.
I just cant wait for the 4 X 100, another WR? Probably.

Comments
View all
Report