09:01AM, Thu 10 July 2008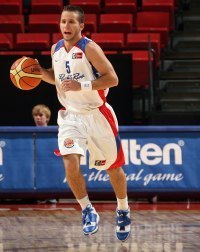 MARIBOR (Alpos Cup) - Puerto Rico defeated Iran 83-80 to continue undefeated in two games at Alpos Cup in Maribor, Slovenia. Their final game will be against Slovenia at 2:00 PM local time (Puerto Rico).
In the win Jose Juan Barea netted 17 points while Daniel Santiago had 15, Peter John Ramos 14 and Javier Mojica 10. The team shot 24-42 from two points, 6-21 from three and 17-19 from the free throw line.
The Puerto Ricans controlled most of the first quarter and after a 15-10 lead with 3:44 left, Iran made a 8-0 run that finished with a three pointer by Hamed Afagh Eslameh to claim a 18-15 lead.
In the second quarter Iran continued dominating based on their three pointers with four of them and their consistent trips to the free throw line to finish with a 45-32 lead.
Iran was led in the first half by Mahdi Kamrany and Hamed Sohrabnejad with 9 points each while Hamed Afagh Eslameh had 8 and Iman Zandi Mashhady 7.
In the third quarter Iran had a 53-40 lead but the Puerto Ricans reacted with a 8-0 run including three pointers by Javier Mojica and Filiberto Rivera with 3:57 left to close the game 53-48. Daniel Santiago dunked the ball to tie the game at 55 with 1:16 left but Iran made two straight three pointers to finish up 61-55.
Iran took a 66-57 lead with 8:15 left in the game and Puerto Rico reacted again thanks to a great effort by Javier Mojica, Peter John Ramos and Daniel Santiago. Mojica scored a three pointer to give Puerto Rico a 77-76 lead and Ramos gave the team an 81-80 lead with 18 seconds left. Finally Ricky Sanchez made two free throws with six seconds left to leave the game 83-80.
Hamed Ehadadi had 17 points and Mohammad Samad Nikkhah Bahrami 14. Iran made eleven three pointers in 23 attempts.
The Alpos Cup continues tomorrow as Puerto Rico faces Slovenia and New Zealand faces Iran.
Comments
View all
Report