07:36AM, Wed 9 July 2008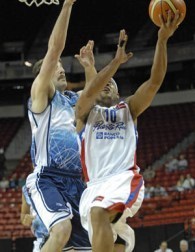 MARIBOR (Alpos Cup) - Puerto Rico reacted in the second half to beat New Zealand 82-74 at the start of Alpos Cup in Maribor, Slovenia.
New Zealand won the first quarter 18-12 and had a 36-29 halftime advantage where Kirk Penney led with 13 points while Mika Vukona netted 8.
Both teams had bad percentages from the field at halftime where New Zealand shot 7-18 from two points, 6-21 from three and 4-6 from the line. Puerto Rico was 8-18 from two, 3-11 from three and 4-6 from the free throw line.
Ricky Sanchez and Jose Juan Barea led with 5 points. Puerto Rico closed the lead with a 13-6 run to be down at half by seven points.
In the third quarter New Zealand had a good lead until the Puerto Ricans ended with a 15-6 run that finished with a three pointer by Larry Ayuso to be dowwn 56-55.
The last tie was at 59 where Paora Winitana made a free throw but Puerto Rico was led by Joel Jones, Jose Barea, Alex Falcon and Daniel Santiago to take the lead and never look back.
Barea led Puerto Rico with 13 points and was followed by Joel Jones and Larry Ayuso with 12 each. Daniel Santiago had 11 points and 7 boards in his debut.
Kirk Penney netted 24 points and Craig Bradshaw 13 in a losing effort.
Puerto Rico faces Iran tomorrow at 11:30 AM local time (PUR).
Comments
View all
Report