08:31AM, Sat 5 July 2008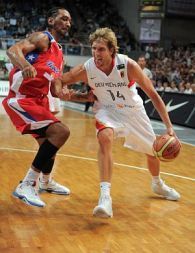 BAMBERG (National Team) - Puerto Rico defeated Germany 85-83 to close the first day of the Supercup in Bamberg. The Puerto Ricans play Greece on July 5 at 10:00 AM local time in Puerto Rico.
Jose Juan Barea netted 24 points, grabbed 5 boards and dished out 2 assists just arriving from a trip from Dallas that included stops in San Juan and Madrid. Barea was in Dallas undergoing a physical test in order to later sign a two year deal with an option for a third with the Mavericks.
Barea made two straight three pointers, one with 6:17 left to put the game 65-63 and then another with 5:56 left to give Puerto Rico a 66-65 lead. Germany scored again to have a two point lead but a three pointer by Ricky Sanchez started a 9-0 run to have a 75-68 advantage. Puerto Rico was up 83-76 but the Germans made a final run to almost tie the game but Joel Jones sealed the game from the free throw line.
Jones also had 22 points shooting 9-7 from the field with five three pointers and 5-9 from the free throw line. Peter John Ramos had 11 points with 14 boards and Filiberto Rivera had 14 points.
The Puerto Ricans lost at halftime 39-32 after having a 16-13 first quarter lead. The reaction offensively came in the final quarter where they scored 33 points.
In a losing effort Dirk Nowitzki had 21 points with 11 boards while Pascal Roller netted 17.
In the first game of the tournament Greece defeated Slovenia 79-71 as Antonios Fotsis scored 17 points followed by Ioannis Bourousis with 13 and Dimitrios Diamantidis 11. Slovenia was led by Radoslav Nesterovic who scored 16 points.
This tournament is a warm up for the 2008 FIBA Olympic Qualifying Tournament for Men that starts on July 14 in Athens, Greece.
Comments
View all
Report