12:46PM, Wed 14 May 2008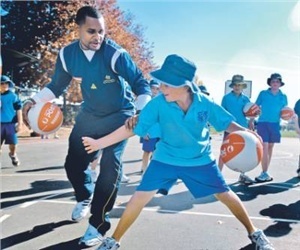 Hey there.
It's been a while since my last update but it's been a busy, busy time and it's going to get even busier very soon.
I'm now back in Oz and getting ready for the first Boomers camp at the beginning of June. It's great to be back home and catch up with family and friends, but my first season in the US has been a great challenge for me and I am learning a lot.
I'm glad to be back home and have a little time to rest up before a big Olympic campaign. Looking back at my college season, I started all 32 games for Saint Mary's and was named in the Mid-Major Second Team All-American by CollegeHoops.net and the West Coast Conference Newcomer of the Year. Although being recognized is important, I believe I have improved my game and contributed to my team.
People often ask me what am I going to do next season. I will be going back to St Mary's to continue my education and play for the Gaels. I enjoyed my first year and look forward to next season.
There has been some interest in playing for the NBA, but I've said that at the moment the main goal is to give myself the best possible chance to make the Olympic team and then go back to College. After that who knows what will happen.
Soon after arriving home in Oz I had a short trip down the road to Marist College in Canberra where I went to school. This was great fun. It felt like it was only a couple of weeks ago that as a student, I was standing in the assembly singing the national anthem with my friends. Boys from the junior school were taken through some basketball skills and also put some shots up, but mostly we had great fun on the court. It felt a little strange being back on the outdoor basketball courts again.
The visit was part of Australia Posts' support of the Boomers this year. They are sending some of the Boomers back to their primary schools as an opportunity to thank them and as you probably know by now, many of the Boomers played basketball at primary school during recess and lunch breaks. I enjoyed my visit to Marist and I will never forget my school days there as a student.
The Boomers have some games coming up against Iran in June. The matches will be played in Perth (Monday 16 June), Adelaide (Wednesday 18 June) and Melbourne (Friday 20 June) so try and come along and shout us on.
Thanks for all your comments and messages of support. Sorry if I didn't get around to replying to you.
Until next time...
Patty
http://www.basketball.net.au/fs_newsitem.asp?id=79078&orgID=1&Oname=BA&O1c=8&O10c=3
Comments
View all
Report