01:07PM, Sun 27 April 2008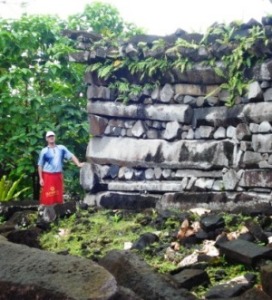 The Federated States of Micronesia (FSM) became the second Country in the Region to launch its Talent Identification Program, by conducting a workshop to establish their testing team, in Pohnpei from 21 - 25 April 2008.
The Program was conducted by Andrew Robinson and Dr Trevor Allen from Monash Sport and included participants from all four States of Micronesia, who sent either sport or education officers for the training.
During the launch of the Program, I was quite amazed at the perception that prevailed among the public at large, that this program was all about elite sport. Far from the truth indeed.
This Program is about education and skill development and perhaps most important of all, gaining knowledge both for the children about themselves and for the Country's decision makers who are attempting to establish policy when it comes to developing the youth of the Country.
Like most countries in the Pacific Region, there is little in the way of systematic physical education throughout the schools of the FSM. Also there is little formal and organised sport and recreation established within or outside the education system. Consequently little is understood about the needs of the population, when it comes to physical development and priorities for sport and recreation.
The term 'Talent Identification' appears to conjure up images of the former East German sports model of Identifying Talent an channelling potential sports stars into sports training schools to produce a factory of Gold Medal winners. It is easy to forget however that the former East Germany was successful in mobilising 90% of its population into regular sport and recreational activities, which provided an excellent base for such an elitist Talent ID Program.
No such base exists in the FSM or anywhere else in the Pacific for that matter. For this reason, the strategy chosen for our TID Program is first and foremost, to acquire knowledge and provide a set of skills that might motivate the youth and the leaders of countries such as FSM to undertake and support programs of physical education and sport, both within the educaion system and in the Communities at large.
Once this has been achieved, one hopes that the motivation to implement and maintain physical education in schools for all the children of the FSM will be stimulated. By keep some basic test data, the FSM and other countries will be able to monitor simple physical performance parameters and growth trends of the population at large which will in turn assist decision makers to make informed choices about the type of education being promulgated and the developmental strategies to be prioritiesd.
It is quite possible that the program might throw up individuals who show outstanding physical performance potential and this in turn might stimulate Sporting Bodies to establish appropriate programs for development of this potential.
But for now, the quest is for knowledge.

Comments
View all
Report