11:52AM, Fri 25 April 2008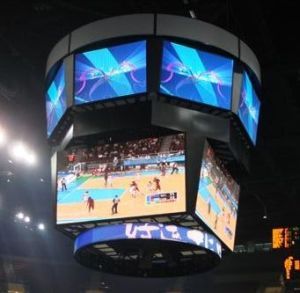 I've been lucky enough to spend the last six days in Beijing at the Good Luck Beijing Test Event for Basketball. Having worked on the Sydney Olympics it was fantasic to see what had progressed and what had not, and how things were being done differently in Beijing in 2008.
Most impressive of all though was the stadium. It seats about 18,000 and has really been built for Basketball. While I am sure it has multi-event capacity it is exciting to see a venue like this that will just make the sport look great come August.
In most stadiums, things like athlete access and infrastructure are a bit of an afterthought - and often very expensive. No expense has been spared in Beijing with a series of ramps leading down to a controlled area where buses will deliver and pick up the teams. The area is not accessible by the general public and the teams for the upcoming games can be dleivered to completely different areas meaning the atheletes will not encounter each other until both teams are ready to be announced onto the court.
The infrastructure for game presentation is equally amazing. The venue complies with FIBA rules for major international events so there is heaps of access room between each side and end of the court and the spectator areas. Scoretable, sports presentation and statistics/tv groups have great vision of the field of play, and access around the back of house areas of these venues is very easy. This means an official can enter the court at a point closest to their destination and not have to circumnavigate the court once they get on the field of play.
And it gets better, a narrow (NBA style) video board runs right around the venue above concourse level. During the Australian National Anthem this was lit with continous images of Australia and our flag. This was carried through to the massive video board set-up that sits above court (see my pic) which includes a continuous circular video board, four huge boards topped by a series of smaller ones.
It is every impressive, as is the collaboration between FIBA, BOCOG and the NBA for presentation of the game. Even the announcer (American), who insisted on saying "2000 - 8", rather than "2000 and 8" as an english speaking person would pronounce it, sounded like he belonged inthe venue.

One of the great things, and talking to FIBA staff they were very positive about, is how involved that FIBA have been involved here - versus previous games. FIBA had plenty of people on the ground for the test event, and are much more involved in the planning. The IOC has changed directuion on this stuff a little which is positive for all sports.
Overall it was great to see. The venue will highlight basketball in the best possible way. It will be even better to see my favourite team in sports, the Opals, standing on the dias collecting their gold medal!

Comments
View all
Report