02:35PM, Mon 21 April 2008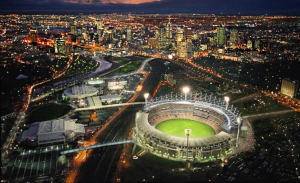 Went to the footy on a glorious saturday night at the glorious MCG. Life is good. What a night, good seats (thanks Clarky), and the smell of beer and pies, and a great contest of footy. Both teams were hard at it, and the contest see-sawed for most of the game ending in one of the most exciting finishes i've seen. Roos got up by 7 points in short, some observations:
The Pies are a strong side, well drilled, and well balanced. Great small forwards, just disappointing big forwards on this night.

Adam Simpson is a captain i would love to play for. Not the most gifted of players with two left feet, i'm sure he's no Michael Jackson on the dance floor, but he's one bloody tough competitor and inspiring leader. Some of his tackles late in the game were up there with the grit and determination of the likes of Arch and Stevo in the glory days, that's the stuff that fills your guts with fire as a fan. Get behind him Roos fans, he's one we will miss greatly when he is gone.

Pratty playing in the backline is coming along in leaps and bounds. He made his mark over the last couple of years as a tough, courageous type that would back into any pack regardless of who was coming, but now he is turning into a very good decision maker, not throwing the ball on the boot at first opportunity, rather assessing the play first, and generally making some very good decisions, not afraid to take a defender on to switch the play if a better opportunity exists on the other side of the ground.

The tackling of Simmo was terrific, but not far behind him were the dashing trio Wells, Campbell and Thomas, who has stepped up their chasing and defensive intencity this year, and it's showing. No defender is safe in our forward line now, resulting in second guessing, turnovers, and the goals are starting to flow.

Speaking of Lindsay Thomas, after a couple of misses in the last term, all seemed lost, but the team stuck fat, and he ended up with another 3 or 4 shots at the sticks b4 the game finished, and was instrumental in the win. Goes to show, do not ever, ever give up. A sign of character and an improving player.

Leigh Harding aka 'Tonya' or 'Turtle'. The little guy that like to run has turned into a cannonball, crashing packs, diving on balls, hitting tackles, chasing. This is his role. If you're not a ball winner, then you bloody well better run hard and tackle like you're life depends on it. Perhaps this is a message the junkyard dog is giving his team this year, because the boys seem to be working hard on it (also Sam Power with 6 tackles). I must say i wasnt always Harding's biggest fan, but I sure did enjoy watching him saturday night.

Brent Harvey and Shannon Grant... When the team is a bit shaky and you need a few quality disposals, these blokes are terrific. Harvey, small in stature, has a knack of making the most of every touch. He's a good shot at Brownlow this year, mental note, get a few bucks on him now. There isnt another player in the league that can play on after a mark, run around the defender with 2 or 3 little dummies, and stick the ball onto the chest of a leading forward all in the space of about 5 metres with 10 tiny Boomer steps.

Daniel Wells - whoever is still bagging him needs to have a good look at his last few games. His impact on a game is not reflected in his stats. He must be one of the classiest players in the competition, and i dare anyone to argue. Last week against the Dees when we were kicking all over the shop he came on the ground and dashed down the wing, and hit the leading forward lace out on his left with a defender right on his tail, at close to top speed. More than half of the players in the AFL would not even have got the ball onto their foot, hell half of them wouldnt even be able to reach the speed he was running at when he kicked it. This was followed up by him being in a 3 on one contest, where he slid along the ground and tapped the ball clear to a Roos player, which ended up in a goal, he's made of different stuff this bloke, that's great footy instinct. Saturday night he was just dazzling with his kicks. One time he was running down the wing heading for the pocket which is where all players in the area ran towards, and all 50,000+ fans were expecting him to kick it to, but he changed his mind as he put the ball down to his foot, switched his balance and stabbed it across his body hitting a hard leading Shannon Grant in front of goals lace out again on the chest with a 55m bullet. Everyone else in the stadium could only adjust in time to see the mark, it was too late. I swear i saw 3 or 4 players trip over out of the corner of my eye. Grant went back and kicked a goal. Not the only one setup by the brilliance of Daniel Wells.
So - why do i think the Roos are coming of age? Well, after a good year last year, we are improving across the board, we have what people will soon be flagging a top defensive unit that we will have for several years to come, we have the luxury of having great leaders, and great emerging leaders, and we have a self belief despite that fact that everyone else continues to write us off as non-contenders. Not to mention, we refused to give up when hope was disappearing against one of the leagues better sides, and we turned it around to win the game. We also happen to have a handful of top players struggling to get into the A's, so the team appears to be growing all over the ground, the future looks bright. We just have to learn how to play the fast running sides now.

Comments
View all
Report