10:12AM, Wed 9 April 2008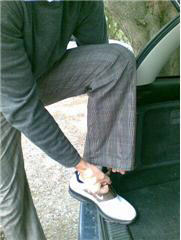 So i've been playing a lot of golf lately. Got myself a pair of those fancy pants and everything (see attached, 5 bucks, jeans west, intentionally high cut aka flood pants). I have dusted off the old clubs of about 12 years and given the set an upgrade, got a fancy new driver, a lob wedge and a couple of hybrids, and we're now in business, i even got a fancy new bag that has a cooler in it which is nice, and anew 3-wheeler buggy. I have my pregame routine all set too:
wallet, phone and keys in the front pocket of golf bag, phone on silent
golf tees (long ones for driver, short for irons and hybrids, 3 of each) and balls in respective slots on new buggy
scorecard in scorecard section of new buggy
club covers removed off driver and hybrids, placed in golf bag side section
2 drinks purchased from pro shop, placed in cooler section of new bag
glove removed from front section of new bag, placed on left hand
back stretches
.....and we're ready to go.

So why is golf like life? Well, for me anyway, here are the reasons:
it's full of ups and downs
it's a constant challenge (if you want to improve)

if you get too far ahead of yourself, it will bring you back down to earth pretty quickly

you get angry with yourself
you have shining moments that fill you with pride
sometimes if you play a new course, you never know what's around the corner
you can always try a different club (i still dont quite know what i mean by this but it sounds kind of clever/stupid)

So this is why i love it right now. My last round was a shocker, after 3 games in a row of sub-100 score i blew it on the back 9 at Morack and ended up with 101. Triple bogey's will have that effect/affect.
So where to from here? Well, i'm bound to be playing every weekend now for a while, surrounded by a couple of mates that are both as addicted as me, i'm in what some may call a 'phase'. I'd like to play as many public courses in Melbourne as i can this year, i prefer playing new courses to the same ones over and over again, though that probably doesnt help my scores, but such is golf.
Comments
View all
Report