10:04AM, Mon 18 February 2008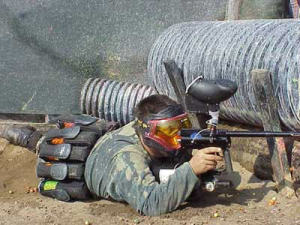 I wasnt planning on writing a sports blog on my paintball experience on the weekend but my legs are still so sore that i figure i had no choice but to share it as a sports experience.
"Not enough pain to hospitalise you but certainly enough to make you jump 3 feet in the air if you're hit in the wrong spot" is the best way i can describe it. Another is 'a massive organised wet towel fight with your mates where you can inflict pain from 30 metres away". Either way, paintball is a lot of fun, and a great quad workout. A couple of hours of adrenaline filled diving, crawling, tactics, shooting, squatting and running has left my gangly legs about as tender as a king island steak.
Each game has a goal, whether its just to shoot as many of the opposition as you can, or make your way to the hill in the middle of the field (while shooting as many of the opposition as you can). At the end of each game there are yarns about how the tactics worked or failed, stories of micro battles between you and one other bloke, stories of how you overcame adversity, or found a great spot where you were shooting the opposition like pigs in a pen because they didnt see you. All ads up to good fun.
My favourite couple of moments:
After marking (shooting) one guy he turned to move to his team post (as you do when you are hit) he failed to put his hands up in the air to signal he was hit (as you are supposed to do) so i shot him in the rump, he then jumped into the air with surprise like a gazelle being chased by a cheetah, it was very funny. I recommend this procedure during the afl draft camp when they do the vertical leap test.
I was one of the designated 'lamb' during one game where we had to make our way to a hill in the middle of the field. As soon as the whistle blew to start the game i ran straight at it without diverting, expecting to be hit 15 times before reaching it, but much to my surprise the opposition were still getting into position allowing me to slide unscathed about 8 metres into the hill much like indiana jones would have. Igorantly i then lay on my back with my feet touching the hill trying to shoot anyone from the opposition that peeped out from a barrier (i should have crawled up into a ball to remain out of sight) but there were too many targets and after about 30 seconds when i was spotted i was hit many times. Had we been using real guns i would have died instantly for sure. It was a stupid thing to do but i felt like rambo for one fleeting moment and our team had the lead for the first and only time for the day, so it was worth it.

When i got home i had a shower and thought i'd count my bruises, i had 15, but they never hurt anywhere near as much as the constant pain i now have in my legs. But it's nice to have some battle scars.

A good day out and something i would definitely recommend for anyone every once in a while.

Comments
View all
Report