Welcome to the Home of the Mighty Hoppers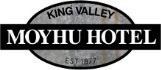 Welcome to everyone for the upcoming 2018 football, netball season and congratulations to all returning committee members and new committee members.
Thank you to all departing committee members for your work and efforts over their time at the club.
Firstly we would like to congratulate all of our new coaches for 2018 season.
Andrew Balfour as senior football coach
Cam Pat & Chocky as co-reserves coaches
On the netball side of things:
Ange Gibb as A grade coach
Kim Saunders as B grade coach
Belinda Marsh as B Res coach
under 17 side.
THURSDAY NIGHT MEALS $10.00 PP
Come and enjoy home cooked meals every Thursday night during football season as Annette Forrest serves up some of the tastiest meals in the district. With a different meal each week it is too good to be kept a secret for any longer.
DESPERATLEY SEEKING SOMEONE!!!!!
Volunteers are desperatley needed at the Moyhu Football & Netball Club. If you think the club is running along beautifully then you are wrong. Every club is only as successful as it's local community and volunteers. Our club is desperate for any help you can provide. Conatct the club or just drop in and lend a hand.