Home Page
Join Us on Facebook click here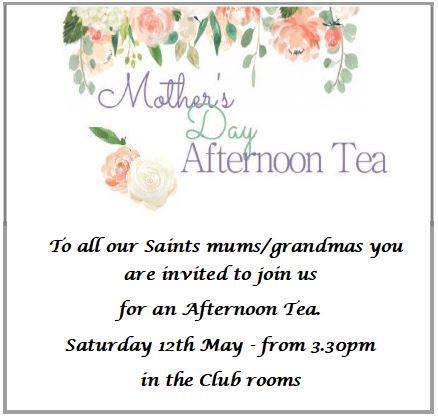 ---
This Saturday 13th May we will be wearing blue wrist bands in support of #beyondblueround2018
Wearing blue tape is a symbolic action, telling everyone that speaking up and seeking support is OK
To find out more about beyond blue visit- www.beyondblue.org.au or call the
24hr/ 365 day support line 1300 224 636
---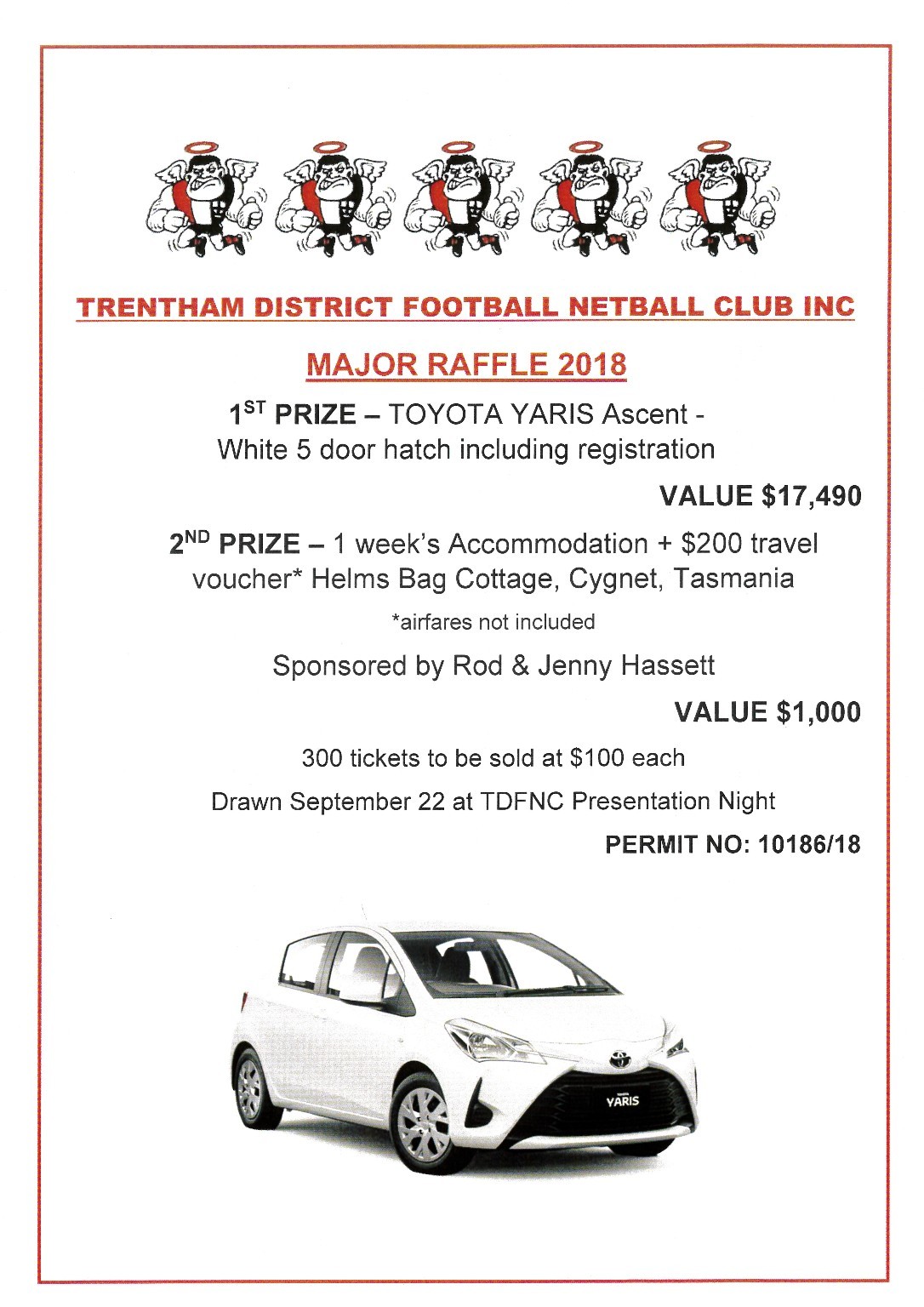 Tickets available through Cello or Tim
---
Trentham Auskick
commences this
Thursday 19th April
Trentham Sportsground
4pm
Registration is online at www.aflauskick.com.au
Boys & Girls ages 5 -12
Come along and have some fun!!
---
Training Nights
Football - Tuesdays & Thursdays
Seniors/Reserves - 6:30pm
U17.5 - 5:30pm
Football 14.5 & 11.5 - Thursdays 5:30pm
Netball A,B & C Tuesdays & Thursdays 6:30pm
17+U - Tuesdays & Thursdays 5:30pm
15+U Tuesdays 5:30pm
13+U Thursdays 5:30pm
****
---
2018 Coaching Staff
Football
Seniors- Clayton Scoble & Rick Dowling
Reserves - Greg Fagan & Matthew Law
U17.5 - Daniel Lendrec
U14.5 - Mark Strickland
U11.5 - Melissa Scoble
Netball
A & B Grade - Erin Richardson
C Grade - Denise Knight
17+U - Mia Kelly / Holly Wheeldon
13+U - Erin Richardson / Livia Bourke
---
2018 Club Positions- Expressions of Interest
are sought for :-
Head Trainer
Sports Trainers
Netball - 15+U Coach
Badged Netball Umpires A & B Grades on Saturdays
U14.5 Football Players - Male & Female
If you are interested in these postions please contact Cello Matricardi(Club President) on 0419 161 002
"Be part of the Saints and let's keep building on our success of 2017"
---
2018 TDFNC Committee
President - Marcello Matricardi
Vice President - Craig Dovaston
Secretary - Peter Love
Treasurer - Tim White
Committee Members - Samantha Whitehouse
Sarah Purcell
Lyn Gray
Sharon Dovaston
Rick Evans
Tracey Keogh
Mark Keogh
Baka Lendrec
Denise Knight
---
2017 - Year of the Saints!!!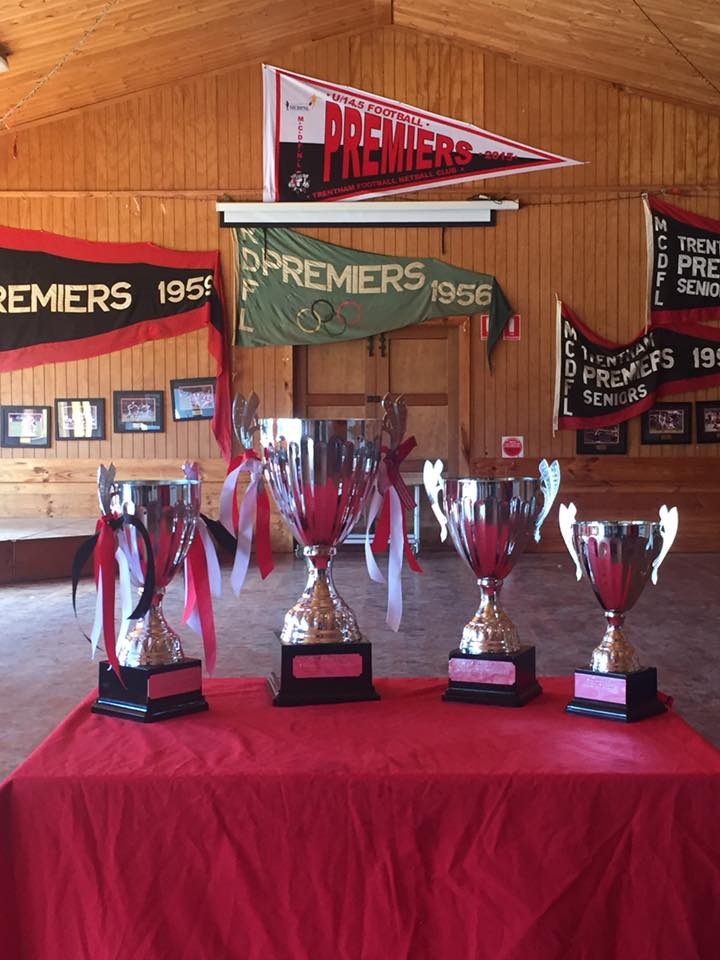 2017 Premiers
A Grade Netball
U17 Netball
U17.5 Football
U14.5 Football
---
Trentham Saints MCDFNL Carlton Club Champion Trophy Winners 2017. ...WOO HOO!!!
The MCDFNL Carlton Trophy was initiated in 1985 to acknowledge the Champion Club. Premiership points in all grades of football & netball are calcualted to decide the winner.
Trentham has won this prestigious award twice before in 1996(288 Points) & in 1998 (278 points).
Last year we were Runner Up. This year we were clear winners on 500 pts!!!!
( The second club only to achieve 500 or more points in the history of this award !!)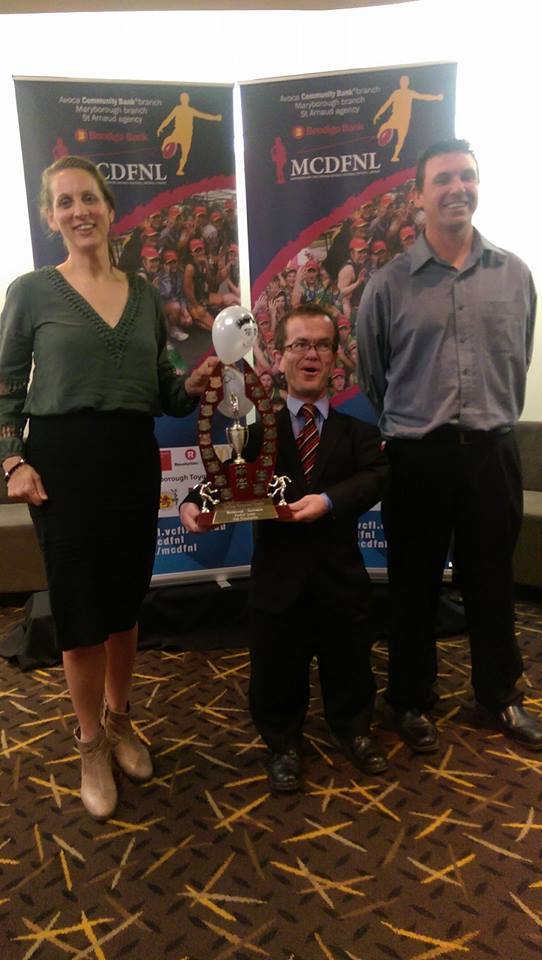 Erin Richardson (Senior Netball Coach),Cello Matricardi 'incognito as the balloon'(President),
Tim White(Treasurer)& Clayton Scoble(Senior Football Coach) proudly show off our Trophy
---
******
Thankyou to all our wonderful
Club Members, Supporters & Sponsors
who help & encourage Our Club in 2018
******