Home Page
Welcome to the Wodonga 'Bulldogs' Junior Football Club.
The Wodonga Junior Football Club's mission is to provide a safe, supportive environment for young players to learn and develop football, social, and life skills through participation in a community sports association.

The Club values the importance of promoting a culture of competitive fair play.
Latest Newsletter is available: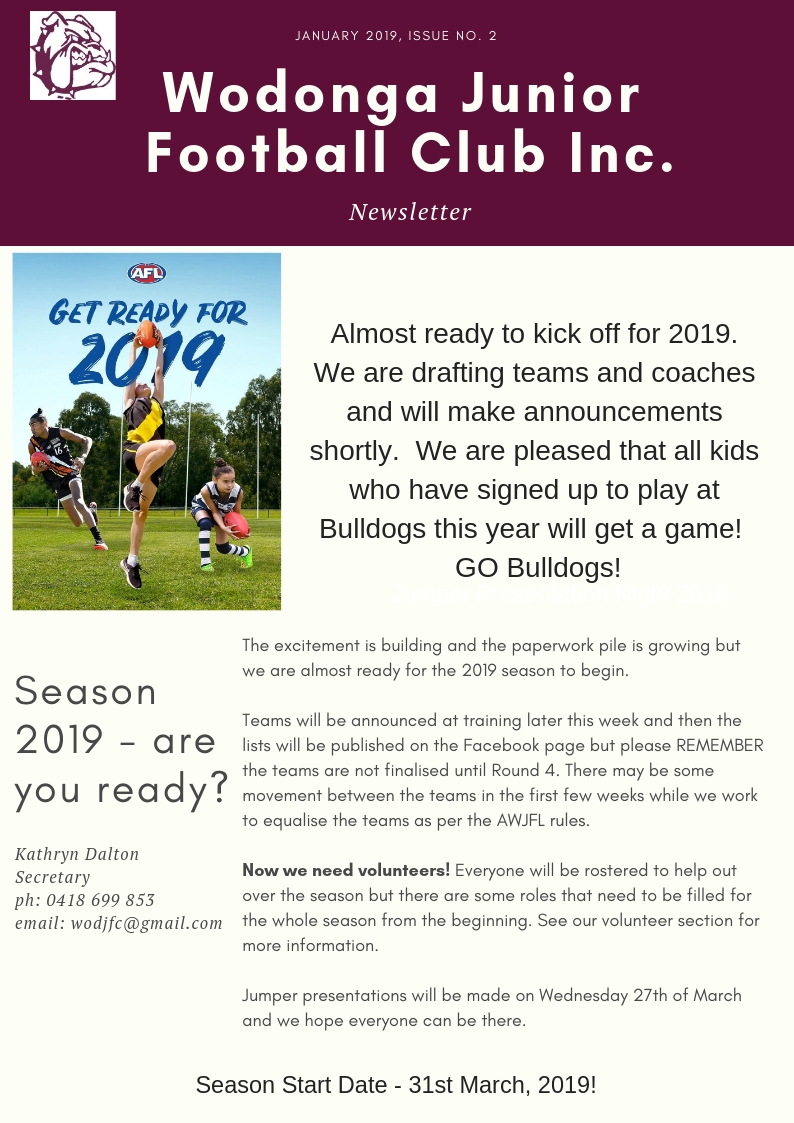 **TRAINING UPDATES**
All teams are now training Wednesdays and Fridays (12s & 14s @ 4.30pm - 5.30pm and 16s @ 4.30pm - 6.00pm) as follows:
Friday, March 8th – Willow Park (Turf cricket oval)
Wednesday, March 13th – St Monica's
Friday, March 15th – Willow Park (Synthetic cricket oval)
Wednesday, March 20th – St Monica's
Friday, March 22nd – St Monica's
Wednesday, March 27th – St Monica's
Friday, March 29th – St Monica's
April – Martin Park
Our Vision 2019
At the Bulldogs,
we believe in not only helping our players become good footballers and great team members, but also quality young citizens of the community.
As part of our club, you and your family are welcome to attend the numerous club and community activities that we hold throughout the season. These may include pizza nights, Ten Pin Bowling nights, Parents Meet and Greet, Coaches Meet and Greet.
We pride ourselves on the following values: Courage, Respect, Discipline and
Teamwork. These values have helped us become a successful club both on and off the field.
The
club is "child safe
" compliant in 2019.