Home
Welcome to the South Belgrave Football & Netball Club
WOMEN'S SENIOR FOOTBALL IS COMING TO SOUTH BELGRAVE IN SEASON 2019
The South Belgrave Football & Netball Club is proud to announce the launch of our inaugural Women's Senior Football team in Season 2019.
We welcome any women who have an interest in playing Women's football in our great supportive club environment.
Development of all players will be a priority, and everyone given plenty of resources and opportunities to play the best football they can!
With the ultimate Premiership success already achieved at several junior levels within our junior affiliated clubs, now is the perfect time to get involved in Senior Women's Football, and be part of a new wave of footballers at South Belgrave!
If you would like further information or to express interest please contact coach Simon Mehegan on phone 0428 866 681 to discus further, or send a direct message to this account with your details and we will contact you.
Check out the tabs accross the top for all your important club information & news

More information on the SBFNC Team App can be found on the news tab of the menu bar or click here to be taken there directly.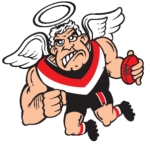 United We Play!