About Us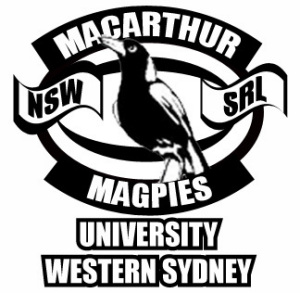 2008 Macarthur Magpies Club
Macarthur Magpies have played in the tertiary league for over 10 years and currently have a first grade & reserve grade team. The club achieved success in 2005 with the Magpies undefeated in reserve grade and runners up in first grade. Club champions in 2006 & 2007 and minor premiers in first grade in 2006.
Over the years the club has had a number of players achieve representative honours for NSW and Australian Tertiary League team as well as having coaching staff participating in these teams.

As well as the on field success the club has a great social atmosphere with partners, wives etc helping to contribute to the overall success of the club.

Come and join a great bunch of people for some competitive sport and terrific social times. For the past three years and with a great support team of managers, trainers and general committee you will enjoy the experience of playing the greatest game of all.

Playing in the Tertiary League gives you the opportunity to represent NSW & Australia with tours around Australia and Overseas conducted each year.

Coaches/Members
Mark Cudmore - 1st Grade
Phil Kingett - reserve Grade

Training Dates & Times Tuesday & Thursday 7.00 - Worrell Oval Ruse

Game/Competition Dates & Times
Games are played on Saturdays
Home ground:
Worell Oval Ruse
1st Grade kick off at 3pm and 2nd Grade at 1.30pm.


---