About Seagulls Junior Rugby League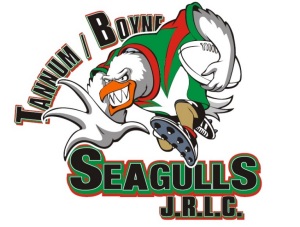 Tannum/Boyne Seagulls Junior Rugby League Football Club is part of the Gladstone District Junior Competition and we currently field teams in all ages groups from Under 6's to Under 18's. Dennis Park, Barry Nugent Field, is the home of the Seagulls and is located off Pioneer Drive, Boyne Island. Our home ground combines great facilities with a wonderful family atmosphere. Seagulls welcomes all new and existing players to the 2017 Season.
2017 on line Registration opens 1st January 2017
OPEN NOW - click on the Register Now button on the right
SEAGULLS JNR BANK DETAILS FOR DIRECT DEBIT OF FEES:
BSB: 014 580 ACC: 394 000 141
If you are not receiving club emails please email: tannumseagulls@hotmail.com to be added to distribution list.
Club Registrar: Carmen Longmuir 0448 886 865 or email query to seagullsjuniors@outlook.com
Under 6s to Under 18s : u6s players must have turned 5 at time of registration).
All new players must have original birth certificate / passport / licence uploaded on line alternatively you may present it at the canteen.
All players must be present with a parent or guardian to register position in team.
Club Canteen Hours: Tuesday - Thursday 5.00pm - 6.30pm
committee member will be available to take new club paperwork, rego money, merchandise etc. Please note that due to work committments etc these times/dates could change without notice. The canteen will be closed when no games are scheduled, school holidays and wet days
All players must wear NEW club shorts (To be included in the 2017 registration) and socks: Club Shorts - $TBA, Club socks $10, Other merchandise available are club shirts $20 SPECIAL, club training shirts $25, Club Hoodies SPECIAL $30, Small Backpacks - $25, Large Backpacks -sold out, Player headgear $55 (only large sizes very limited), Club Caps $15,Club Bucket Hat $20
After sign on day please contact your team coach for any queries in regards to training day and times. Only Fully Registered players can train and play in games. Closed in shoes must be worn at all times during training.
2017 SPONSORS: A big Thank You to all our sponsors who sponsor and support the Tannum/Boyne Seagulls Juniors. Please visit the Sponsor Page on our website and source the many services available to our community.
Please note: U15 - U18's will play Friday nights at various venues; please note teams may not play the same time every week. U12's, U13's & U14's have been on Draw on either Friday night or Saturday, check weekly draw.
Most games for U6s to U11's will be played at Gladstone Junior Fields - Briffney Creek, Harvey Road on Saturdays.
Safety Issue - For the safety of our players please ensure that all players are dropped off and collected from the council car park provided.- Please see Policy under Forms Tab.
SUPERVISION OF CHILDREN: We ask that parents/guardians supervise children while at the fields for training. This is to ensure all our players/visitors are safe at all times. Please ensure that children do not climb up the goal posts, throw rocks on the fields or play in the gear shed. We ask that no one play on top of the dug outs on the senior fields. We ask that all rubbish is to be collected and placed in the bins provided before leaving the fields.
CLUB POLICIES - All Club Policies located Under Course / Forms & Rules Tab and displayed at Club on outer wall next to Canteen.
~~~PLEASE SUPPORT ALL OUR SPONSORS WHO SUPPORT OUR CLUB~~~