Team Profile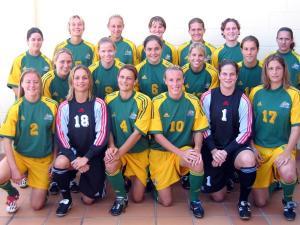 ASA: Up until the mid-1990s, Australia was on a level par with long-time Oceania rivals New Zealand, a fact which is reflected in the results of the time. But Australia was then to pull away from their trans-Tasman neighbours in a big way. The major injection of government funding to the sport in Australia, following the announcements of women's soccer's Olympic Games status and of Sydney as 2000 Olympic host, was the catalyst.
Suddenly Australia was able to employ a full-time National Coach, play regular international fixtures, establish the National Training Centre elite program, introduce a national league, and later a program at the Australian Institute of Sport. With it, the player numbers, particularly at junior levels, increased at an exciting rate. Australia's qualification to the 1995 Women's World Cup, albeit by way of goal difference over New Zealand, was to provide added impetus at the crucial early stages of these advancements.
The Matildas, as they are popularly known, went on to compete in the 1999 Women's World Cup (11th place), their home Olympic Games of 2000 (7th place), and the 2003 World Cup (13th). Of course the expectations, both from within and from the public arena, have changed accordingly. For Australia, it goes without saying that there is no looking back now - continued participation in the FIFA world events is paramount as the Matildas strive to further build on that foundation.
The goal remains for the Matildas to win a match at a world event (World Cup or Olympic Games), and after again disappointingly bowing out at the group phase at September's World Cup, Australia now aims to achieve that target in Athens 2004.
The Matildas arrive in Fiji directly from Brisbane where they competed against China, North Korea, and New Zealand in the Australia Cup. For this and the Olympic Qualifiers, Santrac has selected a new-look 18-member side.
Two players - Kate McShea and Amy Taylor - make their Matildas comeback, after having both been away from the international arena since 2002. Five players also celebrated their first ever senior international selection - Leah Blayney, Lisa De Vanna, Katie Gill, Lana Harch, and Sarah Walsh - all except Walsh still aged in their teens. One further debutante was added - Selin Kuralay - when Bryony Duus withdrew due to injury.
Eleven of the 20-member 2003 World Cup team is included in the team, whilst five from the World Cup squad were not considered at this time due to injury - Matildas captain Cheryl Salisbury, Vice-captain Sacha Wainwright, Heather Garriock, Thea Slatyer, and Amy Beattie.