The Dragon's Den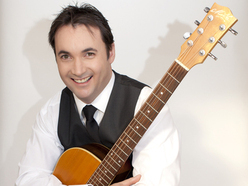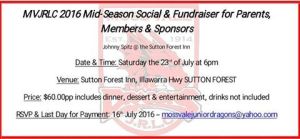 We are getting towards the end of the football season. We have had a great season this year and our teams continue to play great footy week in and week out.
Our last home game will be on Saturday the 30th July and the last game before the finals is Saturday the 6th August.
Here are some upcoming events:
Next Saturday the 23rd July we are holding our fund raising night at Sutton Forest Inn on 23rd July. Tickets are $60 and include a meal plus entertainment by renowned local artist Johnny Spitz.
If you are interested please advise a committee member or your team manager this week so we can confirm numbers. Bring your family & friends and make a great night of it and help raise money for our club to supply training equipment, uniforms and minimise our players fees for the 2017 season.
We are holding our committee meeting this Tuesday the 19th July at 7pm in the Board room at the Moss Vale Services Club. All are welcome.
We also have FREE tickets to the West Tigers v Tiatans game at Campbelltown Oval on Saturday the 13th August. Please contact Dianna for tickets.
Thanks