Home Page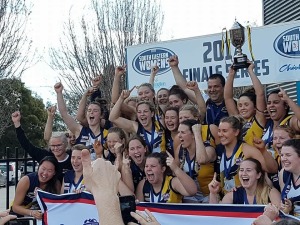 Welcome to the Beaconsfield Football Club
Beaconsfield Football Club is very excited to be fielding a Women's Open Age team in our senior ranks. Our club consists of juniors U8's to U17's including 2 Youth Girls teams and seniors U19's, Reserves & Seniors and the addition of our senior women's team forms a perfect pathway for female footy from juniors to seniors and beyond. Our senior women's team is 1 of 4 teams within our senior club and is included and involved in all aspects of club life. We also have a strong bond with the Beaconsfield Netball Club.
Established since 1890 we are a large successful club run by a professional crew, proudly boasting a warm friendly and inviting culture. Our club facilities are modern and already set up for women's footy. Our social room has its own commercial kitchen where we serve meals every Thursday night and announce our team selections.
Whether you're an experienced player, a beginner or just curious, now is the time to come down to the club and see what it's all about. Female Football is a great way for girls and women to make friends keep active and learn new skills. So, come down and join in or take a look from the boundary line and see what you think. No pressure – just a warm welcome.
For all enquires please contact:
Club secretary - Naomi Rice on 0478 906 256 or email secretary@beaconsfieldfc.com
Holm Park Recreation Reserve
100 Beaconsfield Emerald Road
Beaconsfield Victoria
Postal Address
P O Box 107
Beaconsfield Vic 3807