Welcome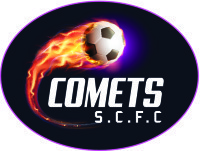 Welcome to Southside Comets Football Club
Season 2018 is now underway and is shaping up to be our most exciting yet following on from the amazing results Comets had in 2017 both on and off the field. Although the season is underway, if you'd still like to join us in 2018 please contact us via email on registrar@southsidecometsfc.club to discuss available places in our teams.
Last season saw our club take possession of our new home grounds and clubhouse at the purpose built football facility at the Walker Road Sporting Precinct, Edmonton (next to the Edmonton PCYC). Anyone that has visited the grounds can confirm what an amazing facility our club now has!
On the field, our teams produced the best season in the club's history. Southside Comets FC won the Premiership in 4 grades being Premier Men's, Premier Under 18's, Under 18B and Under 15A. We then had 5 teams qualify for the Season 2017 FNQ Football Grand Finals with our Under 15B's joining all 4 Premiership winning teams to play on the big day. An amazing day was completed after our Premier Men's team joined our Under 15A's to win the Grand Final!
Southside Comets Football Club caters for both Junior & Senior teams that compete in the Cairns based FNQ Football competition.
Comets Senior teams consist of Premier League Mens, Womens, Mens Reserves, Premier youth (U18) and Second Division Mens.
Our Junior teams cater for children from 3 years of age up to 16 years of age. Our Under 6 to Under 11 teams participate in MiniRoos Football while our Under 12 to Under 16 teams play in the Junior Competitive competition. Southside Comets also offers our 'MiniRoos Kick-Off' program (formerly 'Squirts') for 3-5 year olds.
With the support of our sponsors and the wider community, Southside Comets look forward to providing players with quality sporting experiences that motivate and enhance personal development, promotes friendships, and encourages a deep respect and lifelong involvement with soccer.
If you have any football related queries, please contact our Club Technical Director and Head coach, Mr Chris Collins cccollins@internode.on.net
If you have any registration queries, please don't hesitate contact our club on registrar@southsidecometsfc.club
If you'd like to take your game to the next level, or if you're a parent with a child that that has never played soccer before, come and join us as Southside Comets Football Club actively encourages and welcomes new players to the sport!
It would not be possible for our club to run so well without sponsorship and supporters. A huge thanks to our major sponsors:
Elders Insurance
Fortress Developments
fgf
Project Air Conditioning
La Spina Homes
Picones Supa IGA
Joe's Pizza
Balance! Edmonton Family Medical Practice
The Drug Detection Agency
Vellacorp Painting Services

Please keep these businesses in mind and support them when you can.
The Committee
Southside Comets Football Club Inc.