Welcome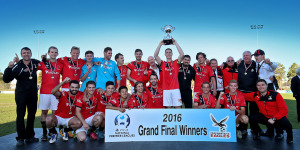 Attention: We have a new website.
The official website for Edgeworth Eagles FC is now www.eadgewortheaglesfc.com.au
As a result the information on the website you are curently view may not be up to date and will eventually be removed. Head on over and check it out via the link above. Thank you.
---
EDGEWORTH EAGLES FC
'Season 2017 - Soar with the Eagles'
Jack McLaughlan Oval - OPEN
---
2016 NNSWF PS4 NPL Grand Final Winners
Edgeworth Eagles
2nd year in a row
Become a Proud Sponsor of EDGEWORTH EAGLES FC for 2017 Season!
We offer a variety of sponsorship packages for you to consider which can be tailored to suit your budget and needs. We would be pleased to be given the opportunity to discuss any of these packages with you and to work with you to promote and support your business. Click on the Sponsor Info tab for further details.


Newcastle Sheet Metal
Fulltime Junior Labourers includes On-Site & Work Shop - Must be keen & eager to learn with a view to possible Apprenticeship.
Please email warren@newsheet.com.au a brief history with your Expression of Interest.