About Us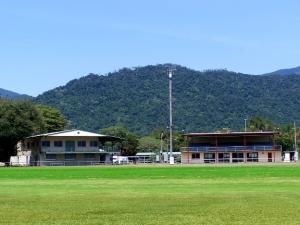 WELCOME TO THE MOSSMAN PORT DOUGLAS SENIOR RUGBY LEAGUE FOOTBALL CLUB.
Mossman and Port Douglas are located only 60 minutes north of Cairns, as the Northern Gateway to the Great Barrier Reef. Sugar production is Mossman's main industry and it is brimming with country hospitality and unlimited opportunities! Port Douglas is south of Mossman and just a short drive off the main highway. "Port" is renowned for its beautiful seaside village atmosphere, iconic locations and buildings and you've never "done it all" until you've attended the Toad Races at the Iron Bar or tried a Mocca's Pie. Boasting many award winning Restaurants, you'll never be short of selections for dining out opportunities as well as the ever increasing tourist attractions and tours. You can also have a drink at the bar in the Court House Hotel that Matthew McConaughey drank at in the filming of "Fool's Gold".

Rugby League has been played competitively in Mossman for over 70 years when there were four clubs competing against each other; the Zingeries, the Wanderers, the Blues and Port Douglas. Eventually the four teams merged into one and the Mossman Port Douglas Senior Sharks came into being!

The Sharks originally played in the Eacham League but left in 1955 and joined the Cairns & District League Competition. The CDRL Competition consists of 11 teams from Tully to the South, Mareeba to the West, Mossman Port Douglas to the North and the competition is passionate and fierce!

Surrounded by cane fields with the impressive Mossman Gorge Mountains as a backdrop, the Sharks have always played at the Mossman Showgrounds. Now aptly known as the SHARK TANK, it was thirteen years ago that the old Mossman Bowls Club building was donated to the club and moved to the Showgrounds so we finally had our own club house! Ongoing work done by both voluntary and paid labour has made the clubhouse what it is today.

The Sharks Football Club in the 2015 Season will side C Grade, Under 18, A Reserve and A Grade teams, with a town full of loyal and loud supporters!
Rugby League, where the Reef meets the Rainforest and the Country meets the Tropics IS THE MOSSMAN PORT DOUGLAS SHARKS!