UPCOMING EVENTS:
2019 Social Calendar
PRESEASON TRAINING
Tuesday 15th, January 2019
to Tuesday 29th January 2019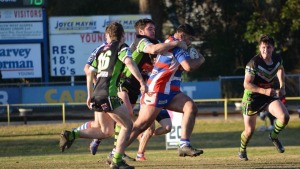 JANUARY PRE SEASON
All grades welcome, and will break off into own teams come February
Tuesday 15th
Friday 18th
Tuesday 22nd
Friday 25th
Tuesday 29th
All at Alfred Oval 6pm
Boots, runners, mouth guard for every session
Message from Roy: I would advise all those keen to play to make the effort to get in and do the hard work. We believe we have assembled a very strong squad and on the back of last years 16's 18's reserve grade we can make it a successful season.
Let's all get in do the hard work and have some fun!!
---
LEAGUE TAG PRESEASON
Wednesday 23rd, January 2019
to Friday 01st February 2019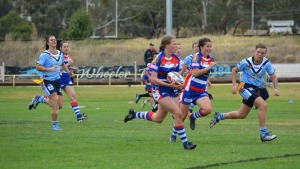 ATTENTION LEAGUE TAGGERS/ANYONE INTERESTED IN PLAYING IN 2019
Training dates are as followed (all 6pm):
Wednesday 23rd January
Wednesday 30th January
Friday 1st of February
then every Wednesday and Friday following that, training will be at 6pm on both nights
If interested in playing feel free to contact Saul or Jess, otherwise just show up
The team is looking forward to welcoming all the new girls coming through
---
22nd /23rd February 2019
West Wyalong Knockout
---
2019 Young League Tag Carnival
Saturday 02nd, March 2019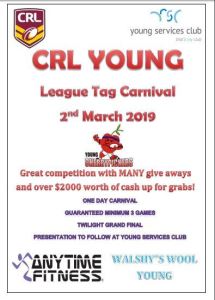 Please see link to the 2019 Young League Tag carnival information package.
Please note those who have participated previously will notice the change of days.
This is a ONE day carnival now on the 2nd of March. Fun to continue at the Young Services Club after the Grand Final.
Knockouts and finals will be held that evening, all teams guaranteed a minimum of THREE games.
Should you require any further information please do not hesitate to contact me on 0400270169 or Jess Mcinerney 0437074616
We look forward to hearing from you and seeing you at the carnival.
http://websites.sportstg.com/get_file.cgi?id=36590775
---
Saturday 16th March 2019
Group 9 Knockout
Played At Cootamundra across both Les Boyd Oval and Nicholson Park
---
Saturday 6th April 2019
Round 1 : Wagga Kangaroos vs Young Cherrypickers
---