In the words of Mr Geoff Stockton, Its a RECORD!
We dreamt it was possible. We knew deep down it was possible. Yesterday 27 girls contributed to making sure possible became a reality. We had the added luxury that today was being played on home soil.
We arrived to the Club looking like a treat. People began flooding into Bungunyan Reserve from 8.30am, as we welcomed a 5000 strong record crowd for an MPNFL final.
Our U17s, our youngest Yabbies, lined up against an undefeated Rosebud side. That said, their last two encounters with Rosebud had been decided by only the smallest of margins. The first quarter didn't go to plan, with the girls being down by 8 at the 1/4 time break. It was time to change things up to begin the fight back. Lily came on court into GA, providing drive and another level of flexibiity to the attack. All of a sudden you could see it in their eyes, a look of determination. We can do this.
The momentum shifted, Milly and Lil began to sink goals from everywhere, we went into 1/2 time 4 down. Coach Ky kept a level of consistency into the 3rd - the premiership quarter. We worked hard as a team, we chased down every stray ball, we kept calm and did all the right things. We took the lead by 1 running into the last.
The final 12 minutes of season 2015 for the 17s. Kelsey came back into the shooting circle for the final quarter and did so with determination and accuracy. The girls believed in themselves. The defensive end lifted. Georgia Baker wore her heart on her sleeve and I took some absolutely crucial interceptions in the final quarter, game winning interceptions. Abelly assisted by her GD parter Georgia Walker, they worked as a formidable team of Georgias and pressured their opponents until they turned it over. Jayde Waterstone, had her game face on and beat her opponent, and provide run and drive from defense.
Nat continued to provide beautiful strong passes into the circle. Liv lead her team beautifully, she was a real authority out there, and took out the MVP medal for best on court. She played consistently, strongly and should be very proud of her troops!
The girls took the game by the scruff of the neck and they came out on top by 1 solitary point. They showed that hardwork and working together as a team gives you the chance to achieve greatness. The Tyabb Football Netball Club has a very bright future with ladies like Olivia, Nat, Kelsey, Milly, Jayde, Georgia B, Georgia W, Lily and Mel leading the way.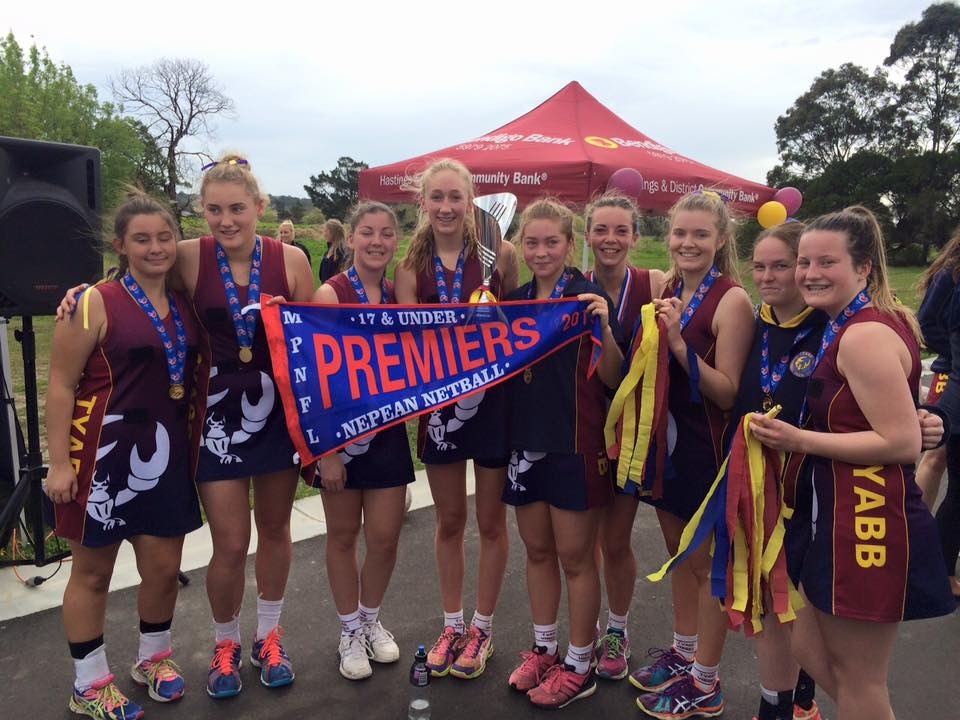 12.45 rolled around extremely quickly and our B grade girls painted a formidable picture across the court for the pre game photograph.
Facing long time rival Devon Meadows, who finished higher on the ladder in top spot, Steve believed and backed in his team, and was certain we had the opportunity to win this game.
The game began in exactly the fashion we expected. It was hard. It was tough. And every player on court was hell bent on winning. We went into quarter time 1 goal down.
The second quarter the pace didn't stop. The sun began to shine. Everything was moving along nicely. Vez and Jess were working well ensuring scoreboard pressure. The girls went into the main break at 14 all.
And then came the quarter of their lives! They say the 3rd quarter is the premiership quarter, and I have to say this is one of the greatest I have seen. Much like how the Aussie Diamonds dominated the Kiwis in the first quarter of the Netball World Cup Grand Final, our B graders put the pedal to the metal and didn't look back. Lily entered the game into the goaling circle.
Lenny, the cool, calm and collected Lenny, had a mission. She cut amazingly, she provided options, and when she didn't get it the first time, she went again and provided her second lead. She was there to back her team mates up. She lead by example. Ultimately she won the MVP for her tenacious and consistent best on performance.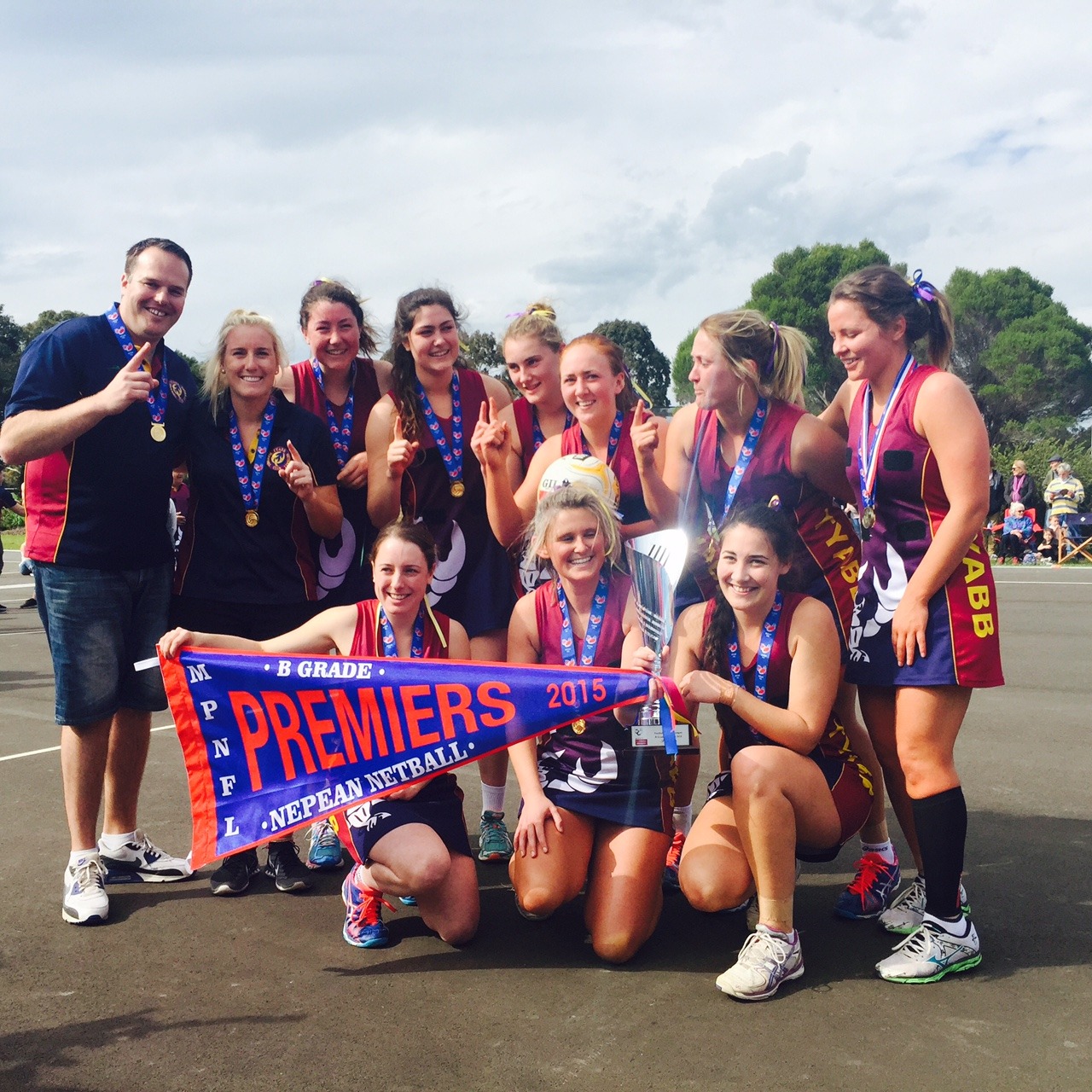 Defensively we dominated. Bec stuck to her opponent like glue, didnt get her an inch and demonstrated spectacular timing on her approach. Kylie, what can I say, she played like a general. She waited, she was patient and then she pounced. And then created opportunities up the court for her teammates. Everything was calculated, everything was perfect. Rhi had this magnificent touch on the ball that can only be described as "beautiful". She was so elegant to watch, that smiling face, but that lethal touch when she got a hand to it. The best part as a spectactor was that when there was a crumbed ball, or a deflection, there was always a Yabbie to mop up. They worked hard for each other, they assisted one another, they looked after one another and most of all they played for each other.
Jess Mann, what can I say girl. You owned it. You stood up tall, you stood up strong and you played the game of your life against some quality opposition. The moment, when you heard someone in the crowd, you looked at them and then nailed the shot was sensational! A wonderful display by a very talented goaler who has come along so far in the last 2 years.
This special team of ladies, had a mission and they saw that come to fruition by 5 points on Saturday. These girls share a special bond, and we all know how much this meant to every single one of you today. Its been a long time coming for some of you - dating back to the 2011 loss to Frankston bombers, that hurt so badly. Today was redemption for that.
Suddenly our Club had won 2 out of 2 premierships and it was time for our A graders to seal this bad boy!
It's become quite a rivalry over the course of the last 5 years since Tyabb entered the Nepean competition. Since that day in 2010, Tyabb and Rye have played off in 5 Grand Finals. As such there is this absolute sense of respect for one another.
The lead swapped and changed all day with Rye getting off to the early lead at 1/4 time by 3. Shannon and KB began to assert their authority on the defensive end. They did not give an inch on that pole. They knew each others every move. Tyabb then slammed on 14 goals to Ryes 8 to take the lead by 3 at the main break.
At 3/4 time the scores were tied. It was as simple as that. We had played 45 minutes of netball and we were all locked up. It was the hottest part of the day, and it was going to be the hottest 15 minutes of netball you have seen to bring this to life and make this, the greatest day in this Clubs history. It all came down to this.
Izzy Brown, what a superstar. A 16 year old gun, owned the Centre court, she provided opportunities to Stepha, and she worked so hard defensively. Iz dictated the state of play, and didn't back down at any contest. Stepha, what can we say you had a tough start to the year, and it took a little bit for that touch to come back, but you were truly PHENOMENAL yesterday. You worked that line, you worked that circle. Every pass was calculated. Every drive had a purpose. You should be so proud of what you have achieved after only giving birth to your beautiful Rory at the end of last year.
Hose, lined up fellow team of the year member Sarah Hosking, and she didn't give her an inch. She played the Wing Ding of her life. Hose, denied Sarah space. She put her body on the line, to give every opportunity to her fellow team mates to continue up the court.
Birg and Kellie combined to systematically come away with the win. They stood tall, they took hit after hit, The crowd were loud and were attempting to take the girls concentration away but they both remained completly cool under the immense pressure that was exterted on them. Birgs split was phenomenal. We really do encourage anyone who hasn't watched this young woman play to get down to a game next year. It was an outstanding battle and the girls came out on top, nailing 8 goals to Ryes 4.
A grade were named back to back A grade premiers! This team has remained together and achieved something that few teams do once, little own twice in as many years. A back to back premiership is only achieved, by those who are willing to make sacrifices for the greater good of the team.
When we think back to where we have come from, all you can do is sit here and smile. We have achieved greatness over a sustained period of time.
Looking back to that first meeting with 5 of us in the Club rooms who would have thought we would have won 3 A grade premierships, 1 B grade premiership and 1 U17s premiership in that time.
What I am most proud about is the way this club goes about it. The young ladies that are part of this club are courageous, passionate, determined, hard working, compassionate, and most of all they love what they do. My hope is that out of all of this, is you come away with best friends for life. You lead a happy, balanced life, where sport is a part of it. You learn how to be reslient, to work together as a team, to fight battles, to lose and to know how to get back up when you get knocked down.
Yesterday was another chapter that we get to add to the history of this very proud club.
Enjoy it. Remember it. Embrace it. Treasure it. 2015 - the Year of the Yabbies!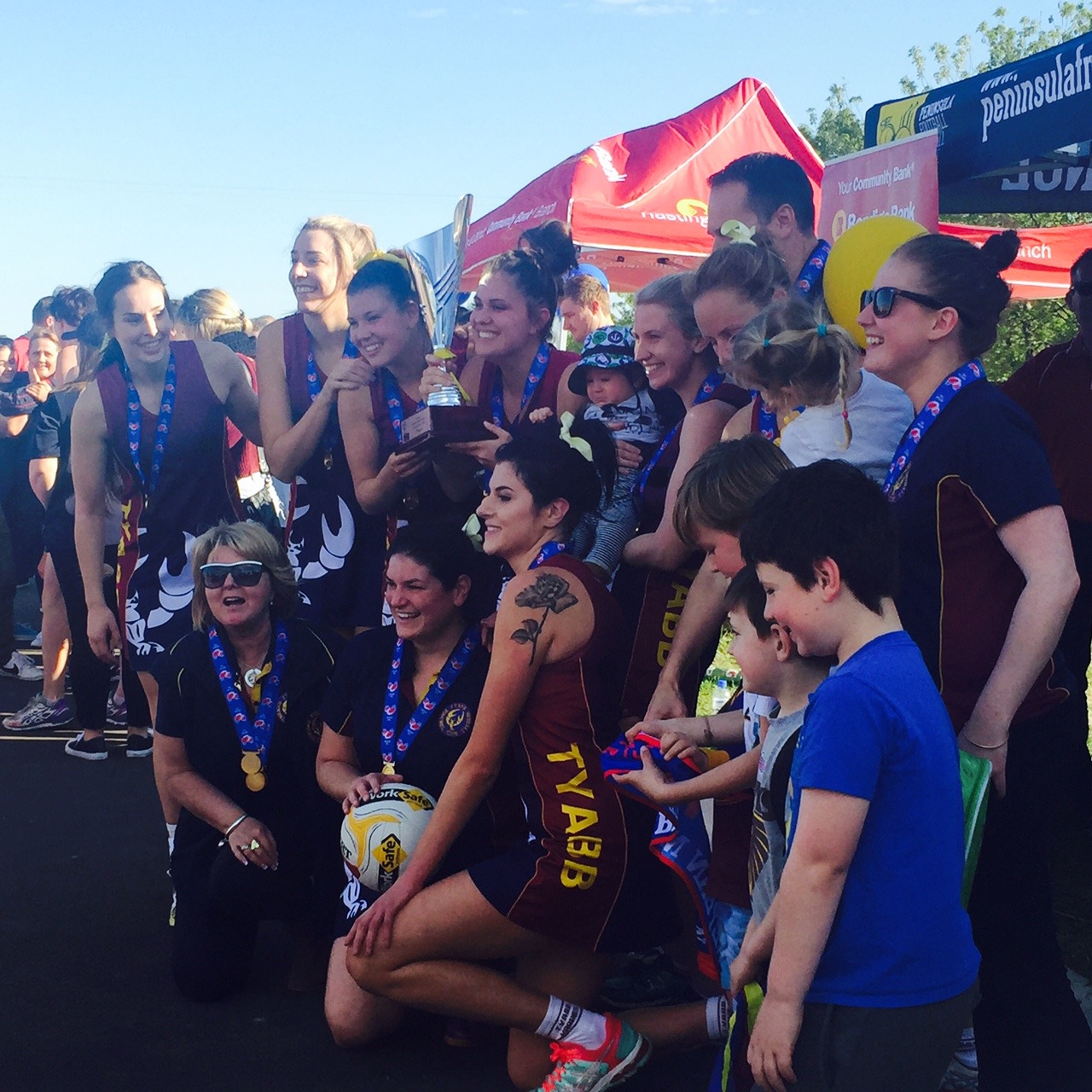 Last Modified on 13/09/2015 22:30