Heat too hot for Fire
Words: Michael Flynn
Additional Reporting: Jennifer Thompson
Images: FNQ FC Heat
FNQ Heat are the early season league leaders following a commanding 4-0 win over Sunshine Coast FC at Barlow Park.
Joshua Pin, Jamie Carroll and Jamie Gosling both netted their second goals in as many matches for the hosts, while Keiran Sanders netted his first PlayStation 4 National Premier Leagues goal off the bench.
The result marks the best ever season start for the Heat in the competition's history and extends their unbeaten run against Fire to five games.
Heat currently sit above Moreton Bay United and Redlands United on goal difference after the opening two rounds of the competition.
Key Moments
6' – CHANCE FOR FIRE – Brady Cronk tests Heat goalkeeper Kevin Ward with an early shot but the gloveman proves up to task
25' – GOAL FOR HEAT – Joshua Pin bursts down the right win and crosses to Heat captain Jamie Carroll, who slams his finish into the back of the net
31' – CHANCE FOR HEAT – Jamie Carroll with the opportunity to double the lead but is denied by a full-stretched save by Fire goalkeeper Samuel Nickolls
32' – CHANCE FOR HEAT – Sharp combination play between Christopher O'Hare and Jamie Carroll sees Carroll again pull the trigger and again denied by Samuel Nickolls
41' – CHANCE FOR FIRE – Left winger Christopher Jancevski picks out Jeremy Stewart with a cross but the finish goes just wide
44' – GOAL FOR HEAT – Cristopher O'Hare beats his defender and picks out Jamie Gosling, who converts with his left foot
73' – CHANCE FOR HEAT – Sharp build-up creates an opportunity for Darcy McCormack to put Heat three ahead but Samuel Nickolls again makes a telling save
78' – GOAL FOR HEAT – A well-placed through-ball from Jamie Gosling releases substitute attacker Keiran Sanders, who curls in a composed finish
81' – GOAL FOR HEAT – Keiran Sanders picks out Jamie Carroll, who in turn lays off for Joshua Pin to drill home the finish and seal the win in style
What They Said
"Jamie Carroll continues to take the captaincy to new levels. He's been absolutely supportive off the pitch and fantastic on the pitch. If he can keep scoring goals like that I will make him team manager as well as captain – he is doing fantastic." – Tim Campbell, FNQ Heat coach
"Obviously I'm bitterly disappointed – nobody likes to lose. We've come up against a very strong side that play very good football both in possession and out of possession. I've got no regrets. We've lost and I would like to see a different scoreline at the end of the day, but that's history now and we move on." – Paul Edward, Sunshine Coast FC assistant coach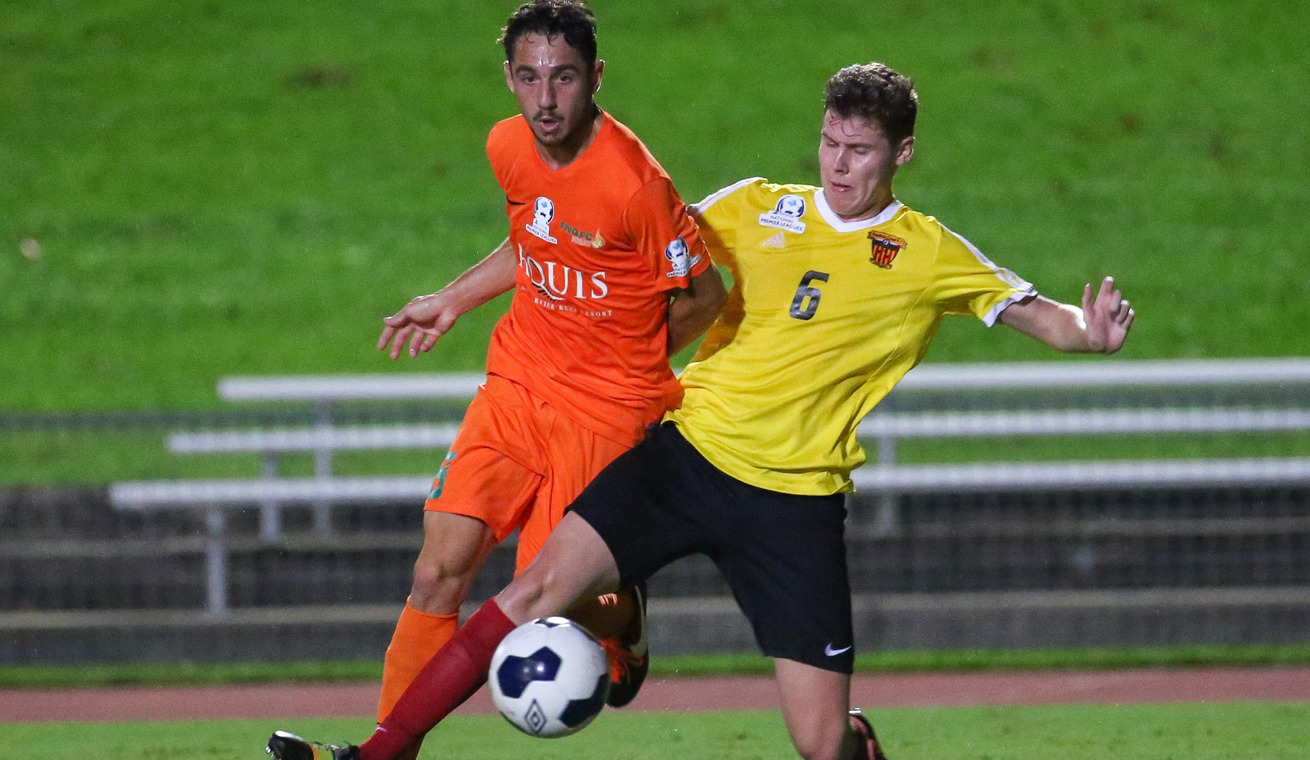 Match Details
PlayStation 4 National Premier Leagues 2016 – Round 2
Saturday, March 5
Barlow Park, Cairns
FNQ FC Heat 4 defeat Sunshine Coast FC 0
FNQ FC HEAT
Goals – Jamie CARROLL 26', Jamie GOSLING 45', Keiran SANDERS 79', Joshua PIN 82'
Yellow cards – Jamie CARROLL 57', Charlie BEVERLEY 66'
Red cards – none
Squad – 1. Kevin WARD, 2. Shaun OWENS, 3. Shimon WATANABE, 4. Charlie BEVERLEY, 5. Ari ISMAN, 6. Jamie GOSLING, 7. Joshua PIN (15. Matthew FILIP 85'), 8. Christopher O'HARE (10. Keiran SANDERS 67'), 9. Jamie CARROLL, 11. Darcy MCCORMACK (16. Bronson KOPPEN 78'), 12. Cameron NUCIFORA
Unused – 13. Mqondisi NKIWANE, 20. Joshua WILSON
SUNSHINE COAST FC
Goals – none
Yellow cards – Christopher JANCEVSKI 21'
Red cards – none
Squad – 1. Samuel NICKOLLS, 2. Timothy HOLLINGWORTH, 3. Giacomo MELLINO, 4. Christopher JANCEVSKI, 6. Connor HANCOCK, 7. Cameron NAIRN, 8. Grant DE CHASTEL, 9. Brady CRONK, 11. Jeremy STEWART (5. Kyle TOWNSEND 45'), 14. James VERDIN (10. Kobe FULLER 58'), 19. Shoichi KOSHIMIZU (12. Jordan LLOYD 87')
Unused – 15. Lucas LEWIS
Last Modified on 08/03/2016 13:49