Welcome to Riversdale SC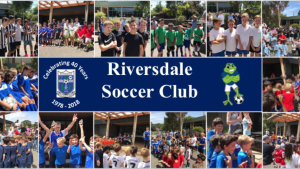 Riversdale is a community-based club, located in Camberwell, Victoria, with a range of senior and junior teams. Our goal is to provide an environment for players to enjoy participation in a team sport, learn to play football and be supported to develop and achieve their potential.

Our men's teams compete in the State League 4 South-East and also in the Sunday Thirds League.
Our juniors begin in the FFA MiniRoos (formerly called "Small Sided Football" (SSF)) program, and then progress from Under 12s through to Under 18s.
Got a Question? Call the Riversdale SC Hotline 0472 705 875
Latest News:
Riversdale Spring Program - click for details
AGM Called!
Our Annual AGM will be held on Tuesday 23rd. October at Frog Hollow Hall from 7:00PM, all members welcome.
Senior Presentation
Thank you to all supporters that turned up and celebrated the Senior Presentation night at Beehive Hotel - a great night had by all. Congratulations to all recipients:
Seniors - B&F Gia Vannuccini & Runner Up Jon Foley-Donoghue
Reserves - B&F Alec Pangalidis & Runner Up Irish Keith O'Neill
Season 2018 has ended and a number of achievements made. A sincere thanks to all our volunteers, the work done by Club Builder and a special mention to Nik Hadaway for his nurturing of young tallent.
I was thrilled to spend the afternoon with Councillor Lisa Hollingsworth and local members Greame Watt, John Pesutto handing out awards to our Junior players - well done to the girls and boys, see you next year.
A big thanks to Mums and Dads who have entrusted their sporting pursuits to Riversdale SC, we hope you had a fun time.
The senior sqaud stuck to its guns and played home grown players and surviving a tough season. Riversdale SCs skill aquisition program has developed a number of juniors with 10 Reserve positions being filled with boys aged 18 and younger - including 3 Under 15s. A big thank you to Senior Coaching staff John Kounelis, Emil, Greg and Bill Renehan for supporting the clubs vision to build from within.
Now the Winter program takes a break to plan out Season 2019.
The club is running its Riversdale 5s Futsal Program at Camberwell High School - commencing in October - there is room to join & entries can be made - refer to the 5-A-Side tab or call the Riversdale SC Hotline
President
Rob Favata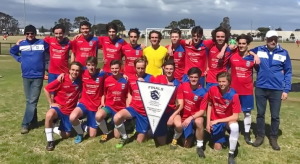 Riversdale SC - 2017 Metropolitan 17A champions: Click here for full story.