The Home of WJBC

Wembley Junior Basketball Club is an amateur club which plays in the domestic competitions conducted by:
Altona Bay Basketball Association (ABBA), located at the Altona Sports Stadium, Queen St, Altona Meadows

Westgate Basketball Association, located at Whitten Oval, Barkly St, Footscray
We are a non-profit organisation, which is run by parents on a voluntary basis. We are on the look out for new Committee members so please contacts us for details.
---
Team Photos - July 20 & 21


(20 June 2018)
We are going to shoot team and individual photos again in July. This will happen at both Altona and Westgate on July 20 & 21. As we are looking to update the photo board on display when entering the Wembley Hall we would like every team to please have their team photo taken. There is no obligation to buy photos but please support the initiative so the club can have a complete photo board for 2018. Emails have been sent out.
---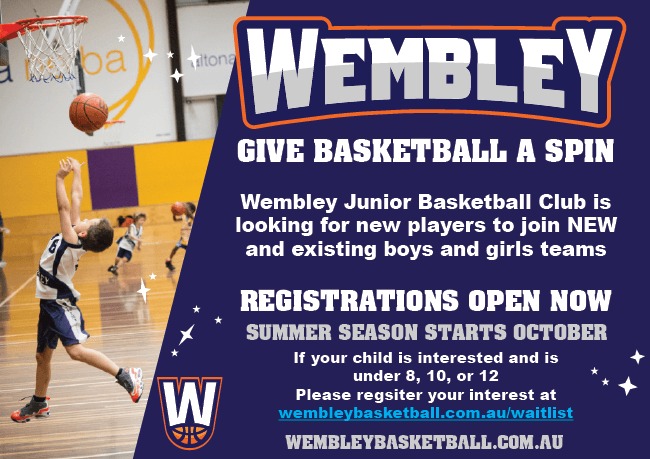 ---
Electronic Scoring at Altona and Westgate
(20 June 2018)
Hopefully you are finding the electronic scoring at both Associations simple to use and even fun to navigate. If you have any questions then please feel free to ask representatives at the stadium on the day of your game.
---

---
Rule Changes for Winter
(18 April 2018)
Please note these rule changes for Winter in regards to travelling, game disqualification and unsports-man/woman-like fouls.
Read and view a video on the rule changes
---
Did you know?
Rachel Jarry is a former Wembley Junior Basketballer who has represented Australia at the Olympics and World Championships. Rachel's mum started Wembley Junior Basketball Club back in 1997. Read more about our history.
---
Committee Update
(29 May 2018)
The Committee will held our third meeting for the year and reviewed the status of the WWCC checks, finances and team performance. The next committee meeting will be held on 29 July 2018 at Yarraville/Footscray Bowls Club.
The Altona Association AGM was attended by Committee with nothing of significance to note.
The Wembely Junior Basketball Club 2018 Annual General Meeting will be held on Tuesday 18 September. We will be attempting to update our Club rules for acceptance at this AGM. If you have some ability to assist then please contact Adam at president@wembleybasketball.com.au.
---
Child Protection
(

18 April 2018)
All member's who spend significant time with the children in the Club need to adhere to requirements from Working With Children Check, Basketball Victoria statutory declaration, Assocation and Club registrations.

IF YOU DO NOT HAVE ALL OF THESE IN PLACE YOU CANNOT COACH OR BE IN CHARGE OF THE CHILDREN

.
For coaches and volunteers please follow the guidelines below.
---
Stay up to date through our Facebook Group
We have a closed group on Facebook. Stay up to date with all the goings on at Wembley Junior Basketball Club by requesting access. Access is only provided to people who are related to the Club.
---
Want to jump in and get involved?
More hands make light work. You can view who is on the current Committee through the Contact Details page. We are always on the look out for different people with skills to help the Club including - coaching, strategy, fundraising, managing waiting lists, registration, communications, uniform ordering, finance, representative to our Associations, organising events and reporting back to Consumer Affiairs.
Don't be affraid to jump in and help out.