NEWS & REVIEWS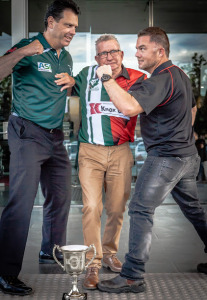 The Knox Club Cup - Wantirna South Vs Knox Round 1
The 2017 season kicks off with the Knox Club Cup against
Wantirna South @ Walker Reserve Wantirna South this Saturday.
Get down and support the boys in round 1 for 2017.
****
Coaching Announcements and New Recruits:
It is great pleasure to finally announce all our coaching positions for 2017
as all positions have now been filled.
Once again we have :
David Madigan as our Head senior coach
David Carden has now taken up the position as Director of Coaching
Phil Buck as a line coach
Chris Buerckner as a line coach
It's great that Chris has made the move to the Senior ranks after a year in Development Squad - Congrats Chris
We also welcome back to the Fort our 2007 Senior Premiership Coach
Stuey Wynd as our Development Coach
along with his Assistant Coaches
Adam Slater and Scott Hunter
Another new coach for 2017 is Braet Adams as our U19s Coach
Braet is a Knox person through and through and it's great to see him back where he belongs after a couple of years away.
Assisting Braet is also a great get for the club in Mick Curtiss . Mick has done a lot of coaching of his own right at both Junior/Senior levels
Another assisting Braet is Gareth Britten who it's also great to see him back at the club after quite a few years playing at Forest Hill.
After alot of hard work from the moment the final siren sounded in 2016.
We would also like to welcome our new recruits for season 2017
Tall Key defender from Sandringham/Mansfield
made the 2016 GVFL team of the year
Classy Forward from East Burwood
with great hands who can also go through the midfield
classy small crumbing forward from East Burwood
who certainly knows where the goals are
Jayden and Jordy collectively kick 50 odd goals between them in 2016
Aaron Wood
Looks like a hard nosed mid from Tallygaroopna near Shepperton
he comes with plenty of dash and poise
Ex Mulgrave classy winger/forward who can use the ball well, & knows how to kick a goal
Ryan Wilson
Ryan is a classy outside mid how has had stints at Vermont were he has been a top 5 best/fairest and more recently has been at Wandin in the YVMD
We also welcome back a couple of players from overseas in
Marcus Jordan and Luke Williams
Luke would would be a highly regarded acquisition to any club as we have had to fight off many 1st division clubs and Leading Country football leagues to secure the signature of our legend of the Knox FC
We acknowledge your loyalty to the Knox FC
Welcome back Luke and Marcus
It's great pleasure to have 3 Knox junior boys come back to the club for 2017 in Sam Lennox, Ethan Murray & Daniel Wilson
****
Make sure you check out the
Sponsors Special Offers
Section on this site for discount offers and club benefits being offered by our sponsors
****
Club Uniform
All players and coaching staff of the Knox Football Club are required to be dressed in the following attire on the way to and from all Home and Away games:
Black Pants, Black Shoes, Club Polo Top and/or Club Hoodie
Merchandise purchases can be made by contacting Bill Saunders on
0428 112225 or billsaunders@live.com.au
****
Keep up to date with all the happenings around our club by clicking on Events Calendar and join our Facebook community,
these pages are being updated regularily.
****
To find out all the information on your team or favourite players click on Fixtures/Results then select the team you are interested in.
From there you can view Team Stats or select Player and access player photos, profiles and stats