NEWS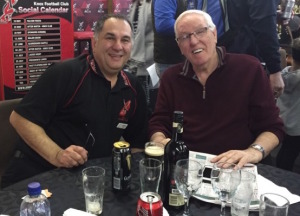 It is with deep sorrow that we announce the passing of one of our much revered and generous sponsors Neville Taylor of Abco Timber Wholesale P/L.
Neville has been a strong supporter of the Knox Football Netball Club over many years. His generosity, passion and friendship will be greatly missed. Our deepest condolences are extended to his wife Nikki and his long time friends the Aiello family.
In keeping with Neville's love for a punt his funeral will be held in Legends Room, Cranbourne Turf Club, Grant Street, Cranbourne on Monday 4thMarch commencing at 10.30am.
I invite players, supporters and sponsors to attend to show our respect for such a special man,
Jane Barbanti - President
****
With pre-season well and truly underway I just wanted to update you all with our social calendar and a few happenings for the 2019 season:
AFL Silver Membership
One of our sponsors has generously donated 2 AFL Silver Memberships (Valued at $1200)
For full details visit https://membership.afl.com.au/silver-membership
Richard (Pilch) Ransom will be running an online auction in the coming weeks on Facebook,
if you are interested please participate, if you are not on social media feel free to contact Pilch to place a bid – Reserve $800
Ph: 0419938838 Email: richardbransom@gmail.com
Bunnings BBQ – Sunday 10th March
Bunnings Scoresby – 8.30 am – 4.30 pm
Helpers wanted - 2 hour shifts
Mitch Greaves is organising all footballers (men's & women's) to help out on the BBQ
Funds raised will go toward purchasing new equipment for our Strength & Conditioning Department so will directly benefit all players
If anyone is able to assist please let me know, and please pop down to support our players on the day
Practice Matches
16th March v Ferntree Gully (away)
23rd March v St Bedes (away)
30th March v Parkdale (home)
Season Launch - Saturday 30th March
To commence directly after the final siren
We will introduce all new recruits, coaches, support staff and committee members
Our Men's and Women's Footballers and Netballers will be in attendance
Refreshments will be provided
Round 1
Saturday 6th April v Wantirna South (away)
The tradition of the Knox Club cup continues again this season so make sure you support our boys in this local derby
Presidents Lunch
Saturday 13th April - Details to follow
Future Events
Friday 26th April – Round 1 Netball
Saturday 27th April – Round 1 Women's Football
Saturday 4th May – Ladies Lunch
Saturday 25th May - Sponsors Evening
Saturday 1st June – Major Draw
Saturday 232nd June - Scoreboard Lunch
Saturday 13th July - Night of the Falcon
Saturday 10th August - Past Players Lunch
Saturday 21st September - Presentation Night
Looking forward to a fantastic season, hope to see many of you down supporting our players in the coming weeks
Knox Football Netball Club – Senior Women's Coach
The Knox Football Netball Club is seeking applicants for a
Senior Women's Football Coach
Assistant Coach
To mentor our senior team for season 2019.
The Knox Football Club is seeking applications from suitable candidates that are interested in working with and further developing the potential of our young playing group.
Our coaching staff are assisted by our innovative Strength & Conditioning coaching staff and extremely experienced Trainers.
We are seeking applicants who have knowledge of women in sport and the challenges/successes that are involved in this environment as well as teaching players the fundamentals of the game.
The successful applicants will be strong communicators and willing to work with a group of young women to improve themselves both on and off the field.
The Knox Football Netball Club is a strong community based family club.
Expressions of interest will be treated in confidence and can be directed by email to the President Jane Barbanti at president@knoxfnc.com.au
****
Make sure you check out the
Sponsors Special Offers
Section on this site for discount offers
and club benefits being offered by our sponsors
****
Club Uniform
All players and coaching staff of the Knox Football Club
are required to be dressed in the following attire on the way to and from all
Home and Away games:
Black Pants, Black Shoes, Club Polo Top and/or Club Hoodie
Merchandise purchases can be made by contacting
Bill Saunders on 0428 112225 or billsaunders@live.com.au
****
Keep up to date with all the happenings around our club by clicking on
Events Calendar and join our Facebook community,
these pages are being updated regularily.
****