NEWS & REVIEWS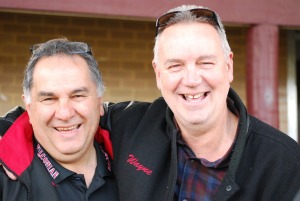 Finals 2017
Grand Final day for 2017 is here!
What a massive day awaits for our club as the Seniors look to win our first senior premiership since 2007.

Unfortunately the Reserves miss the opportunity to be playing off for a premiership today as they ended their season last week with a preliminary finals loss to Lilydale. It wasn't the way the boys hoped to send the skipper Adam Whitten off in his 200th game. What a massive milestone. Congratulations Whitts!
Our boys wasted numerous chances to be a red hot chance with some inaccurate kicking which was never really there throughout the home and away season. The finals yips definitely seemed to crack our boys which was extremely disappointing for them. Sam "Turbo" McCarthy gave his all along with Gavin Low, Brett Holst, Nathan Canning and Harry Exton, but much like the previous week there were not enough contributors. Lilydale ran away 4 goal winners to send our boys crashing out in straight sets.

But this Saturday it's all about the seniors!
The boys have gone through the year losing just the once in the 19 games to date. It was a massive 3rd quarter 2 weeks ago that blew Doncaster East away and we're hoping for more of the same from the first bounce today.

Which ever way the result goes today we invite all our proud sponsors and supporters back to The Fort Saturday night to reflect on the season that's been. Let's hope that is a celebration with a premiership cup! Do yourselves proud boys. You've worked hard and have deserved this opportunity all year! GO KNOX!!!
****
PRESENTATION NIGHT - Friday 29th September
Venue: Knox Club
Time: 6.30pm - 12.00am
Cost: $60pp includes a 3 course meal with drinks at bar prices
Tables of 10 available, all welcome.

Payment can be made at the rooms on Thursday night or via direct deposit - BSB 033 372 Account 26 1333
However, if paying by direct deposit please email with full names and table seating preferences (janebarbanti@gmail.com)

Ticket sales close on 23/09/17
****
Make sure you check out the
Sponsors Special Offers
Section on this site for discount offers and club benefits being offered by our sponsors
****
Club Uniform
All players and coaching staff of the Knox Football Club are required to be dressed in the following attire on the way to and from all Home and Away games:
Black Pants, Black Shoes, Club Polo Top and/or Club Hoodie
Merchandise purchases can be made by contacting Bill Saunders on
0428 112225 or billsaunders@live.com.au
****
Keep up to date with all the happenings around our club by clicking on Events Calendar and join our Facebook community,
these pages are being updated regularily.
****
To find out all the information on your team or favourite players click on Fixtures/Results then select the team you are interested in.
From there you can view Team Stats or select Player and access player photos, profiles and stats