Home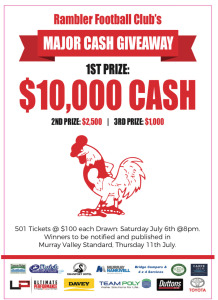 This is very exciting for the club and we hope all our supporters get around it.

We are looking for people to sell books of tickets. Please contact Tam Pfeiffer 0400089968 or Mark Marchetti 0407793804 for books or ticket sales.
$100 per ticket - for a 1 in 501 chance at winning $10k!!!!!
Prizes drawn at Goods and Services event in July.
SA Lottery license number M13683

---
1979 League Premiership Reunion
Saturday 17/08/2019
More information here
---
RAMBLER FOOTBALL CLUB
MURRAY BRIDGE
EST. 1931
RIVER MURRAY FOOTBALL LEAGUE