Dookie United Football Netball Club!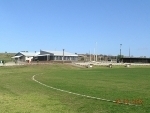 W E L C O M E . . .
The Dookie United Football & Netball Club Inc. has a proud history, built on a strong local community encompassing friendly country people combined with the students and staff of Dookie College. In 1977 Dookie Agriculture College merged with the Dookie Football Club and became the Dookie United Football Club. Since this date the club has successfully been able to work together as a local community to welcome new people to our Dookie "Family"
GENERAL INFORMATION:

NEW

2016 Registration and Membership Fees schedule is now available. Click on the Registration and Membership tab to view the updated schedule and payment details.

---

2016 PDFNL South East Division draw is now available - see tab "season draw"

---

2016 DUFNC Executive Committee
President - Steve Bowmaker, Vice President - Kayla Sutherland, Secretary - Alida Kildey, Treasurer - Heather Hall, Football Ops Manager - Joel O'Sullivan, Football Junior Development Manager, Steve Ludeman, Netball Operations Manager - Megan O'Connor and Marketing & Sponsorship Manager - Cameron Hall.

FOOTBALL:

NEW

2016 Senior Coach - Patrick McMullan, Assistant Senior Coach Sam Bowmaker and Reserves - Travis Waters, Under 17 - still to be confirmed, Under 14 - Jason Randall and Auskick Coordinator - Peter O'Donnell. DUFNC congratulate our coaches on their appointments for 2016.
NETBALL:

NEW

**2016 NETBALL registrations - Senior and Junior**
Dookie United 2016 netballers are requested to register before the first game of the season by clicking on the following link https://netball.resultsvault.com/…/…/noauth/olregstart.aspx… This link will take you to the Dookie United FNC Netball registration form. If previously registered on MyNetball, log in as 'Return User' if not registered previously use 'First Time Participant' to create new record. Options to pay registration will appear at the final stage of the registration. Any queries regarding registration are to be directed to Megan O'Connor 0400 525 936.