Home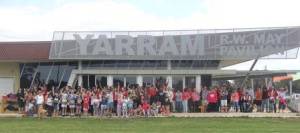 Yarram Football Netball Club
Welcome all sponsors, supporters and players to the season that is 2017.
This year our club celebrates its 130th year. Its been a long time since our forefathers held a meeting back at the Commercial Hotel in 1887 to create the club that we have become today. There has been a lot of changes over the years, and its been the dedication of so many people that have kept the great club going for so many years. We will be having a "Back to Yarram" weekend to not only celebrate this great milestone, but also celebrate our 2007, 1977 & 1972 football premiership teams, as well as our 1972 netball premiers. At this stage, lock away 8th July for our celebration weekend. If you could also spread the word amongst our Demon family past & present so we can celebrate this big occasion together.
Here's to the sea of Red and White on and off the field, week in week out,doing what it does best. Welcome, Work and Win.
Go Dees.
For live news:
Sign up to our app via "Team App"
Like us on Facebook "Demon News Group"
Add us on Facebook "Yarram Demons FNC"
Yarram Football Netball Club is a Level 3 Good Sports accredited club.
Good Sports works with communities to make sports clubs safe and healthy by providing advice about managing alcohol responsibly and making clubs more family-friendly.
As a Level 3 Good Sports club we abide by our liquor license, have bar management strategies in place and our bar staff attend Responsible Service of Alcohol training. We also try not to rely on revenue from bar sales by seeking other income opportunities, have designated smoke free areas and we have a safe transport policy in place.
For more information visit GoodSports.com.au or Facebook.com/GoodSportsClubs