Welcome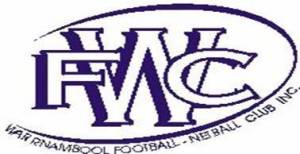 Warrnambool Football Netball Club Sporting Pulse Website 2016
CLICK HERE FOR WARRNAMBOOL FOOTBALL NETBALL SOCIAL CLUB OFFICIAL WEBSITE
WARRNAMBOOL FOOTBALL NETBALL CLUB 2018 SEASON

We congratulate and welcome Matt O'Brien as Senior football coach for the 2018 season.
We congratulate and welcome Raewyn Poumako as Senior netball coach for the 2018 season.
Upcoming season is a work in progress with recruitment for Football/Netball completed, preseason training wraps up on the 20th December, with a likely start up date of Jan 22. Will post to keep informed. WFNC wishes all supporters,players and volunteers a Merry Christmas and Safe New Year.
Warrick Steere, Football and Netball Operations Manager can be contacted on 0438 063 317.