Home
Welcome to the Olinda Ferny Creek Junior Football Club

"Home of the Mighty Young Bloods"
Our Mission

:
The mission of our club is to provide a positive and enjoyable environment for our children to develop physical and social skills through their participation in Australian Rules football within our local Hills community.
Full Mission Statement
2016 OFCJFC Update
With just one Home and Away game remaining in season 2016, it has been a fantastic year for the OFCJFC Young Bloods on the footy field which has seen many highlights, none bigger than the introduction of our inaugural Under 12's girl's side.
With over 20 registered girls, it has been absolutely fantastic to see the girls running around each week kicking goals and having fun. Importantly the girls are developing new skills not only on the ground but off the field in terms of new friendships, developing team building and social skills.
The Under 10's have been showing some enormous potential, playing some great footy whilst our under 12's have had some memorable come from behind victories and were able to hang on in a close win against Seville this week.
The under 14's are making a late charge towards the finals playing some super impressive team footy and are currently sitting in 4th position.
It has also been a good year for our young Auskickers who have 30 youngsters attending each Saturday and have had the opportunity to play at half time at Etihad on a couple of occasions..
Meanwhile, off the field...........we are growing at a rapid rate with one additional team this year seeing our combined number of players reaching 100. An achievement not seen for many years at Olinda.
Of course this was brought about by the addition of our Under 12 Girls Team, which has to be one of the most exciting developments in the history of our club, and a special time for our local hills community. Not only has it brought some incredible people to our club and community but it enables the participation and personal development in a team environment for the girls who in their first year have performed admirably.
We would like to thank everyone who has contributed and worked tirelessly to get our new team established in what was a relatively short timeframe prior to Round 1.
Congratulations everyone, including the families for their encouragement and support and especially the team officials; including Tom Belloni 'T' (Coach), Ross Tsolakidis (Assistant Coach), Kirsten Belloni (Team Manager), Ben Selby-Hele (Runner) and of course none of this would have been possible without the players for their enthusiasm and wanting to be part of this dynamic team.
Our U12 Girls are exciting to watch and we encourage everyone to get around the team in 2017 and provide them every support you can, both on and off the field.
2017 Teams
The OFCJFC is well advanced in our planning for 2017 and we are pleased to announce the expansion to 6 teams in 2017. This is up from 4 teams in 2016 and will see us field the following teams in 2017.
Girls Boys
U12 U10
U15 U12
U14
U16
We look forward to the addition of the 2 new teams and welcoming new and returning players and families to what is a great family orientated club.
In a club first we will be providing training tops for all players in 2017 and in support we are actively seeking sponsors who would like to sponsor the supply of a team's training tops with your business logo and information.
2016 AGM / Presentation Day
The 2016 OFCJFC AGM / Presentation Day will be held at the Olinda Reserve Pavilion on Sunday 11th September, so please put this date in your diaries. We look forward to your presence for what will be our first Sunday afternoon AGM / Presentation Day.
The AGM will commence at 1.00pm with the 2016 Presentation Day to commence from 1.30pm
In advance of the AGM, the OFCJFC is seeking an expression of interest from all members who would like to join the committee for season 2017 or alternatively assist in another capacity.
Our club is administered by some committed and talented volunteers and it is important that this group is continually expanded upon year to year to keep the club moving forward and progressive. With the growth of our club, there are many opportunities at the OFCJFC for volunteers to become involved and make a difference, so please do not hesitate to contact your team manager or one of our committee members if you would like to help out and join a great team. Without volunteers the club cannot run and our kids can't play, so please get involved and support our great club.
We would also like to ask for the assistance of members and families to forward any match day photos taken through the season that we can include in our end of year presentation. Depending on file size please forward these direct to Bek Hutchin (Creative Online Solutions) on email: bek@creativeonlinesolutions.com.au or alternatively put them on a USB.
Once again, we would like to take this opportunity to thank all of our sponsors that continue to support the OFCJFC. Our sponsors are vital for our club and we hope that you, our members can support each of these businesses in return. I would like to acknowledge the generosity of our jumper sponsors who are: Wild Oak Café, Michael Ramadan Podiatry, The Hills Medical and our major sponsor Bendigo Community Bank who have sponsored our U12 Girls Jumpers.
In addition we thank our other major sponsors including Fiorelli Storage & Distribution, Stockdale & Leggo Real Estate, Dandenong Ranges Physio, Dandenong Ranges Veterinary Clinic, Olinda Pharmacy, and Sassafras Cafe along with our Game Day Sponsors for their long term & ongoing support and they include: The office of James Merlino MP, Olinda Pizza, Olinda Café, Olinda Fish Café, and Indian by Nature.
We continue to seek new sponsors four our Junior Club so if anyone would like to promote their business in our local community then please send us a message via: secretary@ofcjfc.org.au. We would appreciate the opportunity to discuss various options and work with you to attain the best return for your business activity.
Regards
Jamie Brown
OFCJFC President
Patrick Ford
OFCJFC Vice President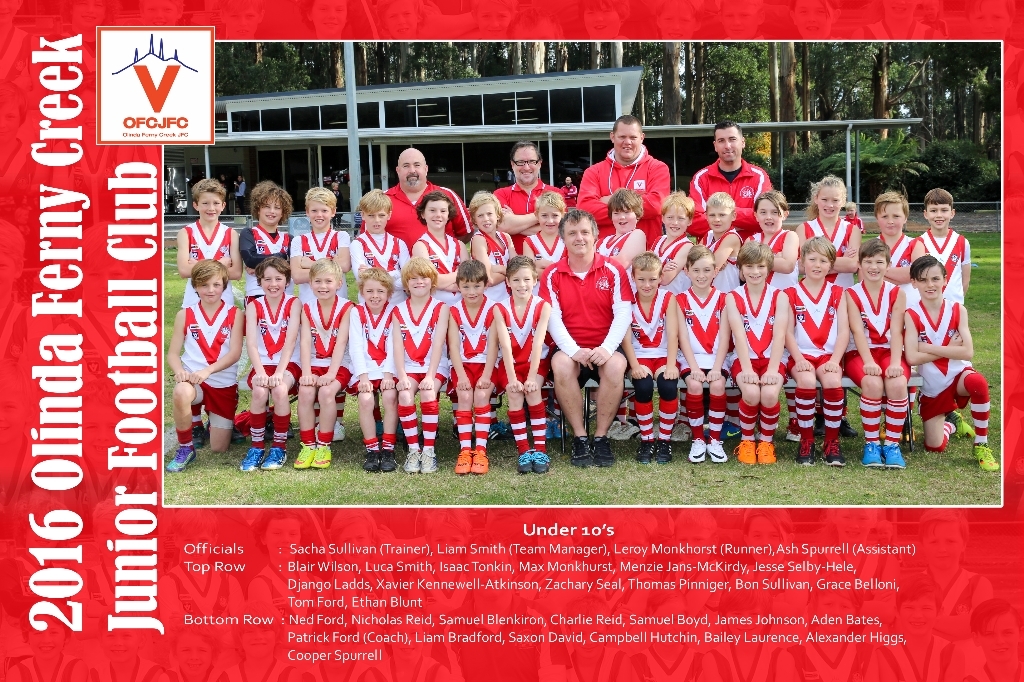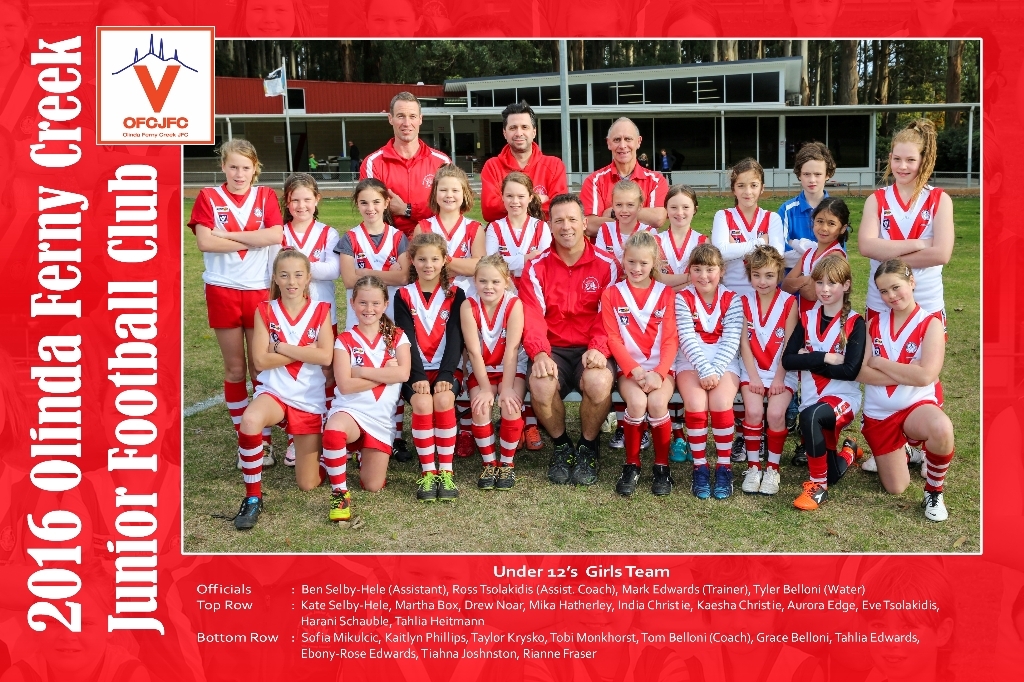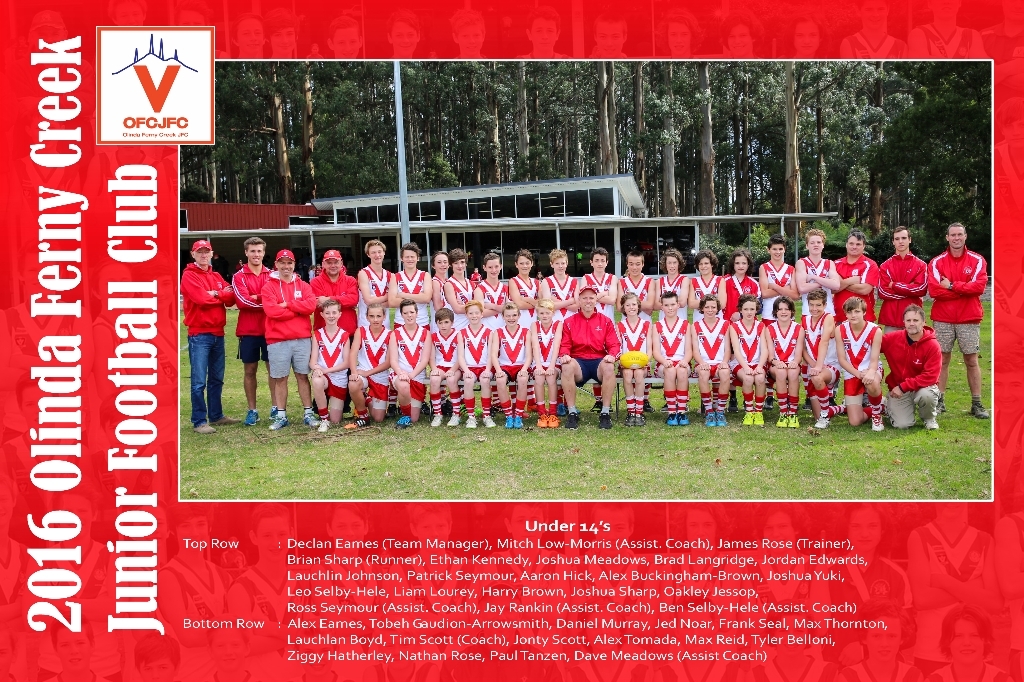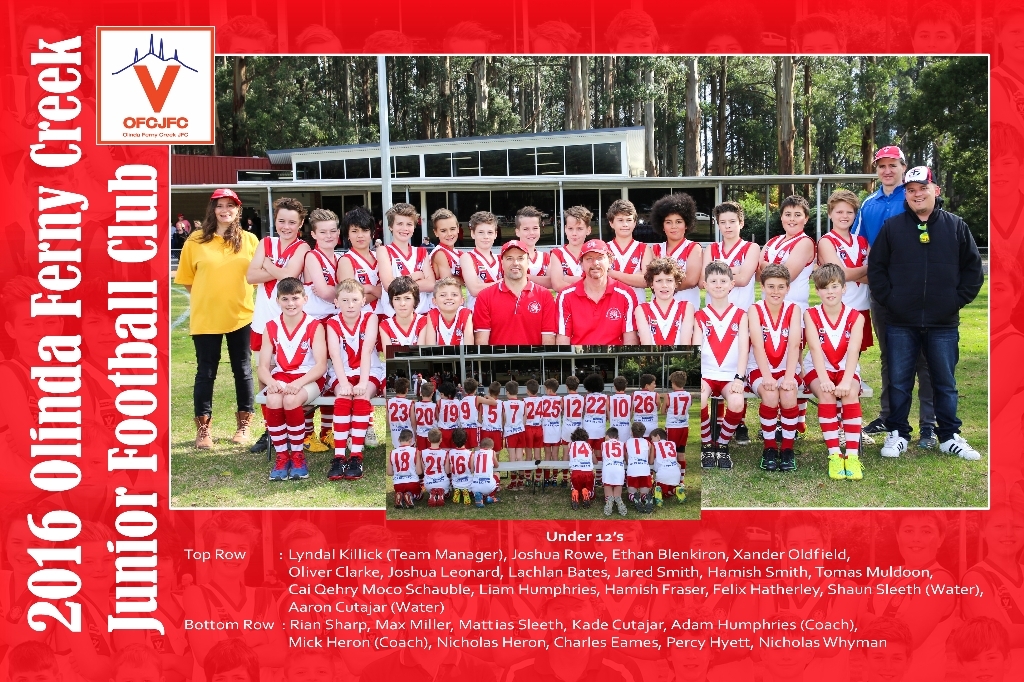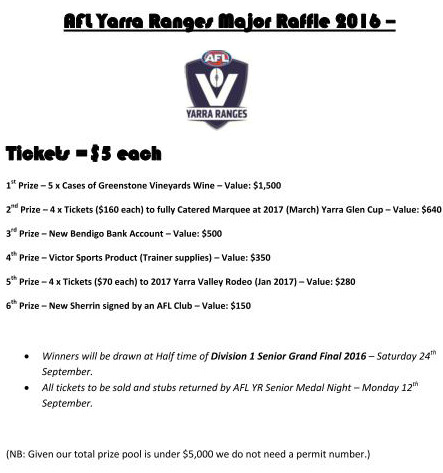 Registration
Please, just as a reminder, the football fun day has taken the place of our traditional
"Registration Day" and so we are asking that all players please be registered online by next Friday 12th February (COB). This will allow us to get an indicative idea on each teams numbers and allow coaches and team managers to build their respective email lists, and to communicate pre-season training dates, times and venues etc.

For those who haven't registered yet, please click on "Members Access" on the right hand side of this page.
What's Hot
Junior Umpires Wanted
AFL Yarra Ranges, in conjunction with the Yarra Ranges Umpires Association, is intent on growing it's umpiring number for the coming season to allow us to continually provide better coached umpires and a higher standard of officiating across all age groups.
If you know someone or are interested yourself in taking up umpiring and earning some extra money, we would love to hear from you. If you still play football, that's fine. We can help arrange so you umpire before or after your game.
We train each Monday night from 5:30pm at Morrison Reserve athletics track in Mt Evelyn. We would love to see many new faces.
The minimum age is 12 and there is no maximum age. We are a diverse group of people who love keeping fit and enjoy the challenge of umpiring a fast paced game of football.
Umpiring is an extremely rewarding sport and you get the best view in the house of the game of Aussie Rules Football.
If this challenge interests you, please contact me on 0408536420 or patrickvandyk@gmail.com or just come down to training. We provide excellent coaching and mentoring services.
Toby Boyle
Commercial & Regional Operations Manager
Good Sports
Sports clubs such as ours play a significant role in the community and therefore have a responsibility to our members and their families. In recognition of this Olinda Ferny Creek JFC has elected to participate in the Good Sports program.
The program is run in Victoria by the Australian Drug Foundation in conjunction with VicHealth, the Traffic Accident Commission (TAC), Department of Health (Vic) and the Department of Health and Ageing. The program has been designed to assist clubs with the responsible management of alcohol and is the only nationwide program of its kind.
As a community based club we believe involvement in this program is a way for our club to promote a healthy and welcoming club culture whilst working to consistently meet our duty of care obligations in regards to alcohol consumption.
To become Good Sports Level One accredited we will address a number of criteria including having Responsible Service Alcohol trained bar staff and implementing a Smoke-Free policy.
For more information about Good Sports speak to members of your committee.
Bendigo Bank Club Rewards
A very easy way to support the club AND get great banking service is to bank with Bendigo Bank. All you need to do is open an account with them (mention you are associated with OFCJFC) and the OFCJFC gets some much needed funds.
You get to have personalised banking at our local branch - which is located in Olinda on Ridge Rd, just up from the corner of Mt Dandenong Tourist Rd near Kellys Bar & Kitchen.
See also their Facebook page with weekly community profiles, and Cameo Ticket competitions...
Bendigo Bank Club Rewards newsletter: Click Here