Home Page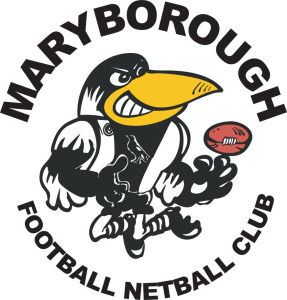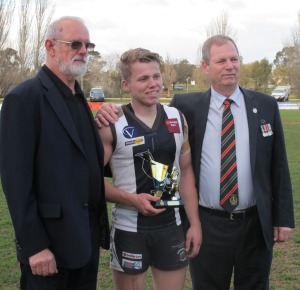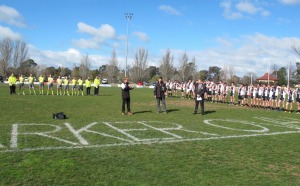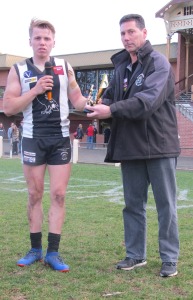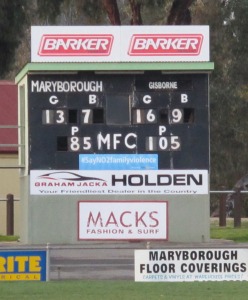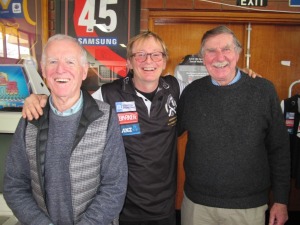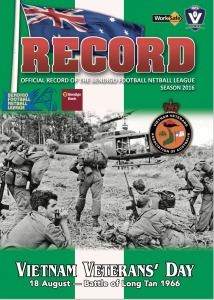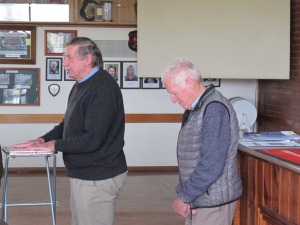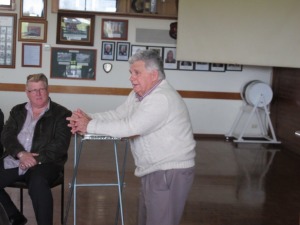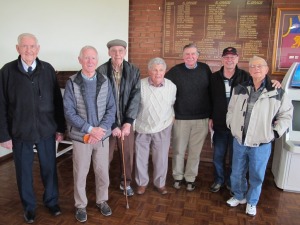 Welcome to the
Maryborough Football Netball Club
You can find the latest MFNC Newsletter Ed 6 in the 'News' section on this website.
Read about this weekend's 'Long Tan' commemorative game at Barkers Oval.
Great photos of recent netball and football matches.
Photos of the MFNC 2016 Ball.
Read about the Sponsor's Luncheon with football legends.
And much more ......
After a tough season, there was a lot to feel good about last week for the Maryborough Football Netball Club.
We were fortunate to have been bathed in sunshine for the commemoration of the Battle Of Long Tan at Barker Oval, Princes Park.
Both the Maryborough and Gisborne Seniors and Reserve teams lined up on the ground prior to the senior's game.
President of the Maryborough Sub-Branch of the Vietnam Veterans Association, Ben Holscher, conducted the ceremony and bugler, Darryl Wagstaff, played the Last Post.
The level of respect paid by both players and supporters was outstanding and the minute silence saw everyone thinking of those who risked their lives for Australia in the Vietnam War.
The Veterans were thrilled with the official BFNL Record which dedicated its front cover to the commemoration as well as featuring articles on Long Tan.
MFNC would like to thank the local Veterans for their work in preparing for the day and we look forward to increasing our community involvement in 2017.
The Maryborough A Grade netball team provided the club with fantastic news on Saturday - they defeated the fancied Gisborne team and have well and truly secured their position in the final series.
Congratulations girls!
This team has worked extremely hard all year and thoroughly deserve their success.
The entire MFNC is behind you and wish you all the best for the finals.
In their contest with Gisborne last week, Maryborough knew it was up against the side immediately above them on the ladder and that they would have to be at their best if they were to win.
The game was close throughout and lived up to the high standard that was expected.
All players contributed in an even performance and it was the experience and steadiness in the end that won the day.
We know that Alicia Cassidy, Jordan MacIwain, Ashlie Lierich (capt), Alisha Chadwick, Laura Hurse, Tori Chandler, Olivia McEvoy, Laura Hopkins, Ella Tranter and Ingrid Hopkins (coach) will carry the premiership hopes of the club with distinction.
There was more good news when A Reserve netballers also notched up a win against Gisborne last week.
In a tight game, Maryborough was able to hang on to its lead despite a spirited effort by the opposition.
Maryborough eventually ran out winners 47 - 42.
Our B Grade netball team came up against a very strong Gisborne outfit and went down 20 -65.
Once again, the girls did not give up and did their best for the entire game.
It was a similar story for the U/17s who lost 27 - 62.
This was not such a bad effort, considering Gisborne is sitting three games clear on top of the ladder.
Our girls remained determined and were competitive for much of the game.
The MFNC Senior football team arguably put on their best performance of the year and came close to claiming its first win.
The game was winnable right up to the last ten minutes when Gisborne managed to create a bit of space for themselves the dying part of the game.
It was perhaps a lack of concentration in the second quarter that saw Maryborough find itself trailing by a large margin.
From then on it was 'catch up' football however we looked threatening from time to time, booting several goals on end.
What a difference it made to have some experienced players back.
Coby Perry won the Vietnam Veterans best afield trophy for Maryborough and he teamed well with Billy Mahoney who also returned to the side.
Freeman, Johnston, Macer, McClure and Rake were also terrific performers for Maryborough with Templeton, Hawkes and Siekai kicking three majors each.
The Reserves were held scoreless against a superior Gisborne side.
Shay, Hillier, Campanelli, Marsh, Coutts and Solomano were among the better players.
We once again thank those players who continue to help us out and provide us with the numbers to field a team each week.
Unfortunately our Under 18s are still struggling owing to the large number of injuries and we thank Gisborne for their generous offer to let us play two of their players on permit.
Our side toiled hard all day and only managed three goals for the game.
Although the scoreboard was certainly unflattering, Maryborough was competitive around the ground but couldn't stem the flow of goals from Gisborne.
This week the MFNC comes up against South Bendigo in our final away match.
While this will be a big challenge for our footballers, we will all be cheering for the A Grade Netball Team as they will be favourites to defeat South Bendigo in the march to the finals.
ROUND 17 Notes ....
Today the Maryborough Football Netball Club proudly dedicates the Round 17 game against Gisborne to the 50th commemoration of the Battle of Long Tan.
The President of the Maryborough branch of the Vietnam Veterans Association, Ben Holscher, has been working closely with our club in the planning of the program for our last home game at Barkers oval for 2106.
The program will include a ceremony prior to Maryborough's clash with Gisborne and presentations in the social clubrooms after the game.
The front cover of this edition of the Bendigo Football Netball League Record features a full colour commemoration of the anniversary and we thank the BFNL and 'Bart n Print' for their assistance and support with this initiative.
The Maryborough Vietnam Veterans will present trophies to the Magpies' best afield in both the Senior football and A Grade netball games.
The Battle of Long Tan took place on the 18th August 1966 and was one of the most significant battles of the Vietnam War.
This historic battle saw the action of 108 ANZACS against North Vietnamese and Viet Cong troops whose numbers were estimated to be between 1,500 and 2,500.
Eighteen Australians were killed on this day.
The Maryborough veterans are dedicating this year's commemoration to all Australian defence personnel who were involved in the Vietnam war and especially to those who were killed in action or have since passed on.
Today we join the Veterans in remembering those who bravely fought and sacrificed themselves for our country.
Last week was a tough one for the MFNC as we lost in straight sets across our Round 16 netball and football matches.
While the Senior football team is still missing many key players through injury, our performance was a little disappointing in what turned out to be a very one sided contest.
We welcomed back Coby Perry who has been playing consistently for the Ballarat Roosters in the VFL for much of the season.
Coby's presence and talent was much appreciated as he put in an excellent performance and was named our best player on the day.
Jimmy Gray played his first senior game and more than held his own.
Johnston, Macer, Templeton, Hawkes and Reeves were also major contributors throughout the contest but, unfortunately, this was not enough to make a significant impact own the scoreboard.
Today the senior side has arguably its best opportunity for a win as we have a number pf players returning.
The reserves struggled again last week however we appreciate the efforts of players who have managed to turn up each week to build our numbers.
Better players were Latimer, Campanelli, Cua, Solomano, Saunders and Shay.
The Under 18s went down as well and were competitive despite the loss of players through injury.
Murphy kicked three goals and was certainly an opportunist in the forward line.
Freeman was once again outstanding while Santon, Postle, Powell, McClure continued their consistent season around the ground.
Our A Grade netball team performed gallantly against a strong Golden Square side but unfortunately finished up succumbing 35 - 51.
This was a big test for Maryborough and gave us the opportunity to learn what is needed to be competitive in the finals.
We know that we have quality players in Alicia Cassidy, Jordan MacIwain, Ashlie Lierich (capt), Alisha Chadwick, Laura Hurse, Tori Chandler. Olivia McEvoy, Laura Hopkins, Ella Tranter and Ingrid Hopkins (coach) who can match it with the best.
Good luck today girls as you take on Gisborne who are one position ahead on the ladder.
A win will all but guarantee a place in the 2016 final series.
A Reserve lost to Golden Square 37 - 63 last week in what was a good contest. The girls played reasonably well and were certainly not humiliated in a game that was closer than the scores indicated.
B Grade came up against a stronger Golden Square and tried hard all day.
There were some positive patches of play that resulted in impressive goals, however the opposition overpowered Maryborough 47 - 16.
Our 17 and Under girls also suffered a defeat going down 63 - 37.
There have definitely been signs of improvement though as the year has progressed and we can look forward to a few very useful contributors down the track as the girls progress to the senior ranks.
A highlight for today will be the celebration of Maddy Egan's 100th game for the Maryborough FNC. Well done and congratulations on this significant milestone Maddy!!
The club would also like to pass on its congratulations to Bridget Epworth (B Grade) and to Mikaela Long who reach their 50th game milestones.
Today we are hoping the Senior footballers can break through with their first win of the season and we need everyone cheering on our A Grade netball team as they try to lock in a finals appearance with a win against Gisborne.
Go Pies!
A highlight of last week's home game against Castlemaine was the MFNC's Sponsor's Luncheon which was held upstairs in our wonderful clubrooms.
Kel Noonan hosted the star studded event with featured football legends, Ron Branton, John Birt and Hughie Mitchell.
All three guest speakers entertained our sponsors with their thoughts on the modern game and there was no end to the funny stories as they recounted hilarious anecdotes from their playing days.
It would be hard to find three more decorated players whose achievements ranged from being inducted into the Hall Of Fame, playing in premierships, representing Victoria in State football and club Best & Fairest awards at the highest level.
Senior coach, Shane Skontra, also addressed to audience to explain where we are currently placed with our future planning and how we are going about the rebuilding of the club.
We would like to sincerely thank our sponsors who generously support our club and we hope you enjoyed the afternoon's entertainment.
Please support our sponsors by purchasing their goods and services locally and remember to check the newsletter for special deals for members.
All eyes were on our talented A Grade netball team as they took on the Castlemaine side last Saturday.
This was a must win as a position in the finals is becoming hotly contested.
The girls responded excellently to the challenge to put on a dominating performance to return to the winners' list, 78 - 22.
The class of Maryborough stood out with their sharp ball movement which, at times, was played at a frenetic pace and left their opponents flat footed.
The experience of Jordan MacIlwain, Ash Lierich, Alicia Cassidy and Laura Hurse places Maryborough in good stead as we approach the last three games.
The girls are already looking forward to today's clash with third placed Golden Square as this becomes a vital game at this stage of the year.
Congratulations to A Reserve whose consistent performance throughout their match with Castlemaine earned them a convincing victory, 52 - 34.
This was a great reward for all the hard work over previous weeks and the girls can rightly feel proud of themselves.
B Grade also found themselves on the winning list with a dominating 20 - 0 win and they`were overjoyed with their efforts. This completed a clean sweep for Maryborough netball last week!!
Our footballers were not so fortunate however as all three levels lost last week.
Injuries continue to bite in the senior side as we now have around 15 of our best players on the sidelines.
Before the game against Castlemaine we lost further players which meant we were forced to field a large number of very young players.
This brought about a decision by Shane Skontra to include himself in the senior team to provide some on-field leadership for his younger players.
This tactic was working well with Shane kicking an inspirational goal after a strong mark in front of goals. It was fantastic to see the whole team run in, cheering and patting him on the back!
However disaster struck within a minute as he fell forward awkwardly when trying to trap a ball.
Shane suffered a serious knee injury and had to be carried off on a stretcher.
Maryborough went on to record another significant loss as the more experienced Castlemaine took advantage of our depleted side.
Crackel, Siekai, Skinner, Macer, Reeves and McClure were great leaders on the day, providing plenty of drive for Maryborough.
The Reserves managed to have reasonable numbers again despite all the injuries to our footballers.
However, Castlemaine proved to have greater skill and fitness and ran out convincing winners.
Gray, O. Macer, Campanelli, Coutts, Jennings and Toll were the best players.
After a fantastic win in the previous week, our Under 18s were undermanned against Castlemaine owing to injuries.
To their credit, our boys fought hard but still went down by six goals.
Better players for Maryborough were O''Connor, Santon, Freeman, Chandler, Lewis and McClure.
MFNC meets Golden Square in Bendigo this week. Good luck to all - especially our AS Grade netball team who are playing for that spot in the finals.
LET"S GET BEHIND OUR A GRADE NETBALLERS!
Congratulations to our talented A Grade netball team who once again showed what they are capable of in their terrific 53-38 win over Kyneton last week.
In the lead up to the game, Kyneton was sitting equal with Maryborough on the ladder with both teams eying off a spot in the finals. The victory places Maryborough a game clear and clinging on to fourth position at this stage.
The experienced combination of players such as Jordan MacIlwain, Ash Lierich, Alicia Cassidy, Alisha Chadwick and coach Ingrid Hopkins consistently presents headaches for the opposition sides. Tori Chandler adds a spark of youthful enthusiasm to cap off a formidable netball team.
We would love the whiole club to get behind our A Grade Netball team so we need as many supporters as possible to come along and cheer them along!
Once again our A Reserve netball team put up a gallant fight, going down to Kyneton 59 - 29. The difference in the scores didn't really reflect the evenness of the contest. B Grade suffered a heavier loss losing to Kyneton 71 - 18.
Maryborough supporters knew our senior football side would be up against a more talented and experienced Kyneton team at their home ground last week. While the final scoreboard showed this to be the case, there were some very promising signs in this match. The most impressive aspect was the ability to finish off the game in such a competitive manner, a feature that has been lacking in so many previous encounters this season.
Andy Siekai put in one of his best performances of the year with a valuable four goal haul while Ethan Crackel was probably our most prolific ball user around the ground. Watts, McDowell, Johnston and Hawkes were also excellent contributors on the day.
It was heartening to see a good turn out for the Reserves team last week with some past players, and a few newer players, making the trip to Kyneton. Past champion Matt Aston made an appearance, taking a couple of strong marks. Coutts and Campanelli tried hard all day and it was great to see an excellent goal from Jacob Smith. In the end, Kyneton was far too strong and showed they have great depth in their club.
After defeating Kyneton in their last exciting encounter at Barker Oval earlier in the year, the Maryborough Under 18s were not able to handle the tricky conditions at Kyneton's home ground last week. After a tight first half of the game, Kyneton drew away as Maryborough's inaccurate kicking cost them dearly and saw them eventually go down by over 30 points. Better players were the ever consistent Chris Freeman, Coby Herd and Mitch McLure. Stratford, Vadala and Smith were also useful contributors.
Last week's Mystery Bus Tour began with tea at the Kyneton Bowls Club, and saw us return to Maryborough via Elphinstone, Chewton and Newstead. Thanks to the hoteliers who all welcomed us warmly - we even had a dungeon tour beneath the Chewton Hotel!! It certainly was a great night and highlighted the wonderful camaraderie between the netballers and footballers at MFNC.
This Saturday we have the MFNC Annual Ball at the Maryborough Town Hall. If you haven't yet obtained your tickets, it's not too late. You can get them at the door. Let's have a fantastic time and celebrate our great club! A feature of the night will be the 20th reunion and recognition of our 1996 Netball Premiers! Enjoy!
file:///Users/deborahmacer/Desktop/MFNC%20Newsletter%20Ed%205%20files/DSC_0007.JPG
Bendigo FNL Live Scores on Red Text
Want the lives scores of every BFNL football and Netball game, use your smart phone to acess using the below link:
http://m.bendigofnl.livescores.redtxt.com.au